Navigation
Do you often encounter the dilemma of not having enough ports on your laptop? When you want to connect an external monitor, read your photography files in time, move files at high speed, connect your laptop to a network cable, or use your laptop more freely and efficiently, then you may need a USB-C HUB. As long as your computer has a port that supports DP Alt Mode for USB C or Thunderbolt 3/4, you can expand more possibilities with your laptop!
Maybe you don't know what a USB C HUB is at the moment, please read on.
What is a USB C HUB?
As technology evolves, products are being updated faster and faster. Notebooks are getting thinner and lighter, and ports are decreasing, while new products are constantly appearing, such as steam deck, new tablets, etc. And people's needs are far from being met by the laptop or tablet's own ports.
Take the Macbook Pro (2020) for example, a model with only 2 or 4 Thunderbolt USB - C ports, the USB-C port on the laptop does not meet your needs when your need is to connect a non-USB-C interface to an external display (such as VGA or HDMI), network cable or card reading device, etc.
USB-C HUB is to expand one Thunderbolt 3 / USB-C port on your laptop into multiple ports, which can be HDMI, USB-A, SD/microSD card slots, RJ45 Ethernet slots, 3.5mm Audio port, VGA, more USB-C Data or Charging port etc,.
What can Dockteck USB-C HUB do?
Next are some key features of the Dockteck USB-C HUB. Take Dockteck 7 IN 1 USB C HUB DD0003 as an example.
HDMI Media Display
Most people nowadays choose to connect their laptops externally to a larger monitor for efficiency and viewing, which can display the screen through the external monitor.
Many laptops do not have HDMI ports, so the USB-C HUB is the perfect solution to this need.
Dockteck 7 IN 1 USB C HUB DD0003 supports duplication and expansion modes, which can reach to display the same screen or different screens with a laptop and an external monitor. If your model supports DP 1.4, the HDMI output can reach up to 4K 60Hz.
Of course, depending on different products and different models of devices, there will be differences in the maximum resolution supported and the number of external displays. For more detailed information you can check further details about Dockteck or contact us via email.
Type C Charging
Do you often shut down your laptop when it runs out of power, and when you want to charge it, you find that the port on the laptop is not enough for you to connect other devices while charging? Do you often need to move your computer to different rooms, countless times plugging and unplugging not only to the charging device but also to your computer port caused a lot of damage.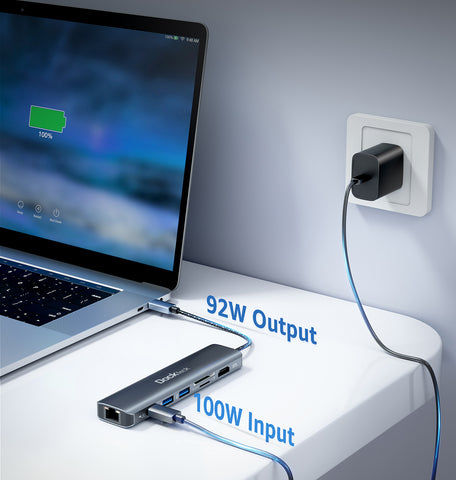 Dockteck 7 IN 1USB C HUB DD0003 supports up to 100W PD Charging (Device consumes 8W).
Data Transfer
If you often need to transfer a lot of work files, photography or photo and video editing, you will definitely feel the importance of high-speed file transfer.
Whether you connect a USB-C or USB-A external hard drive and need to read pictures, videos or files in a timely manner, you can do it all with a USB C HUB.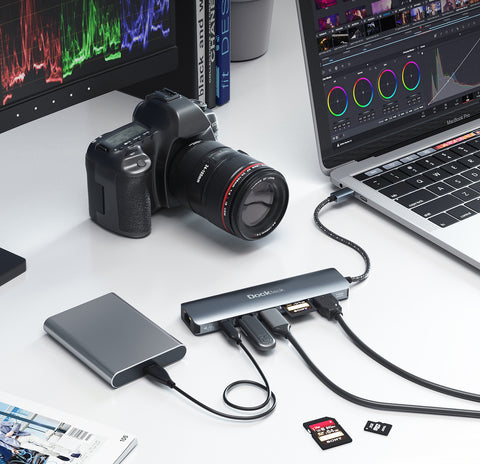 Dockteck USB C HUB DD0003 supports file transfer via USB-A (max 1Gbps) and SD and micro SD card slot (max 104MB/s). USB 3.0 can also be used to connect wireless devices, such as wireless mouse, wireless keyboard, etc.
More Ports
We have many different types of USB C HUBs with different ports for you to choose from. In addition to the above features, Dockteck other USB C HUBs can also connect to stable and fast Ethernet (max 1Gbps), 3.5mm Audio device, VGA, etc.
More products can be found on other pages.
For any other suggestions or questions, please feel free to contact our email support@dockteckstellar.com.
Read More