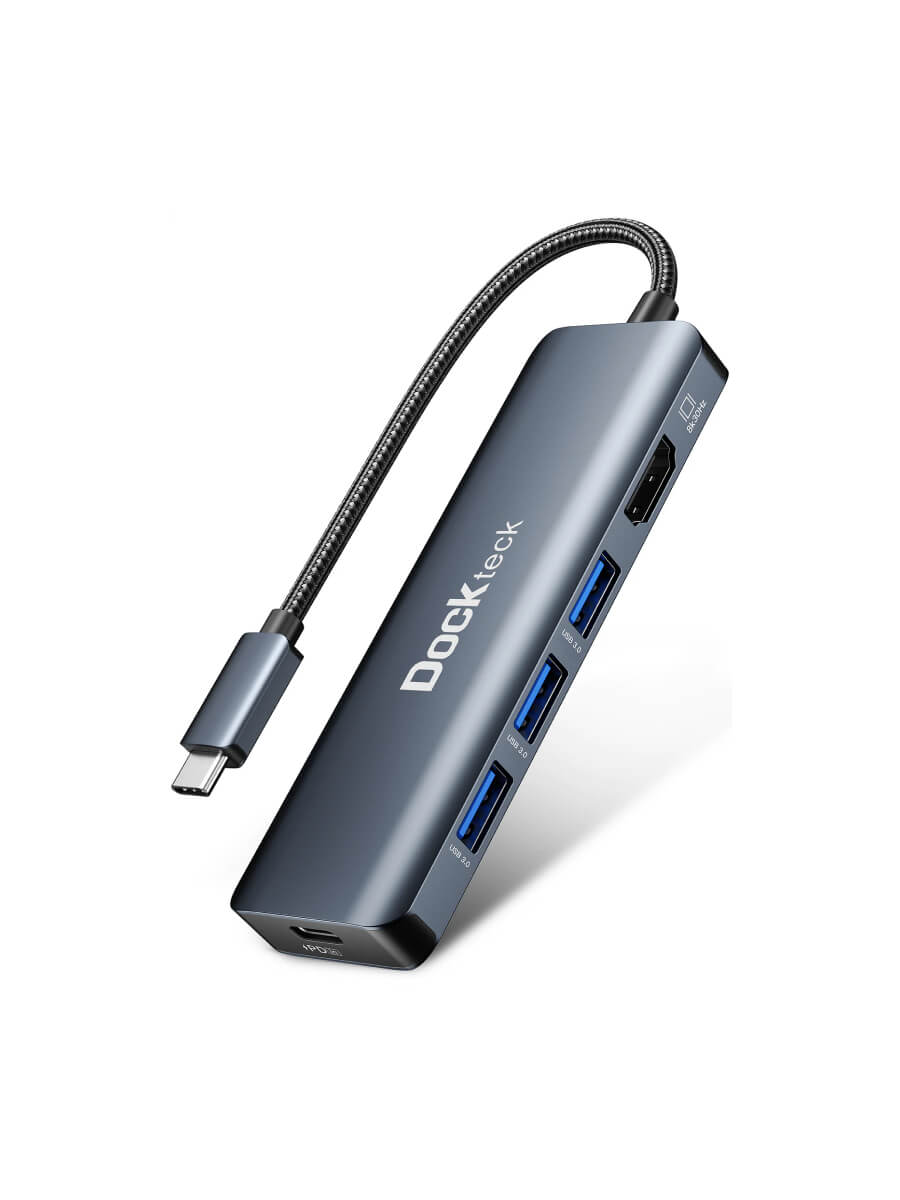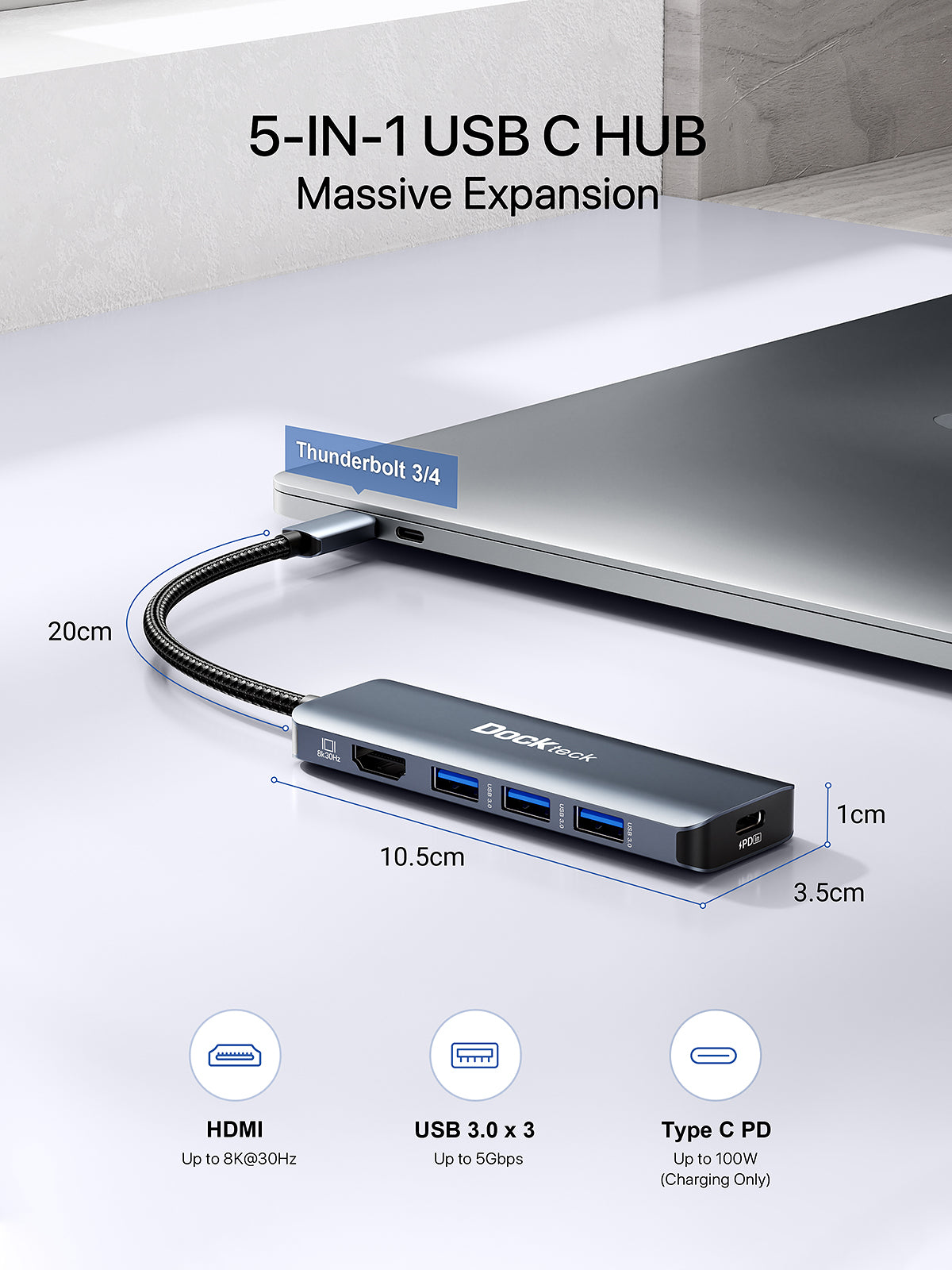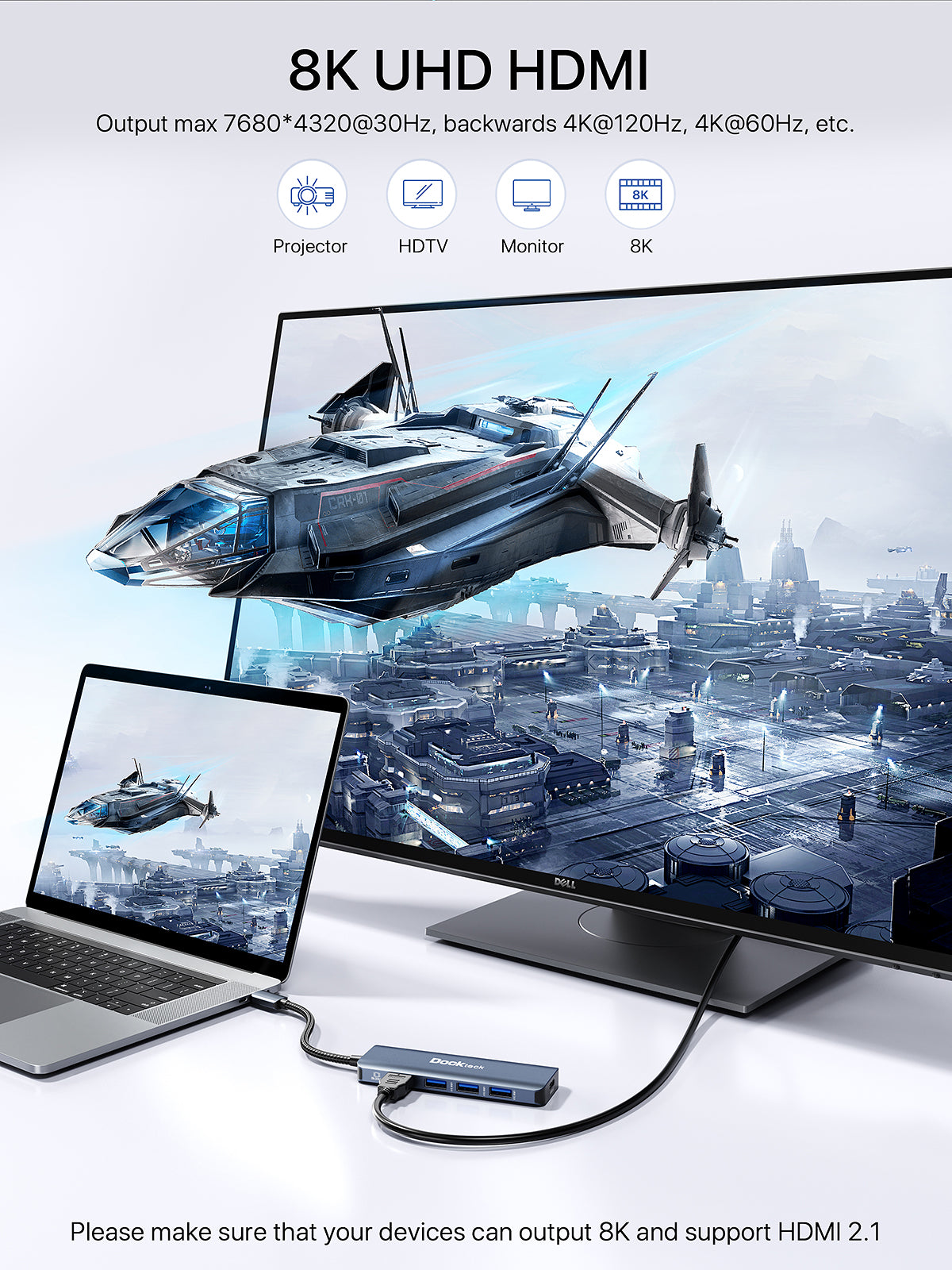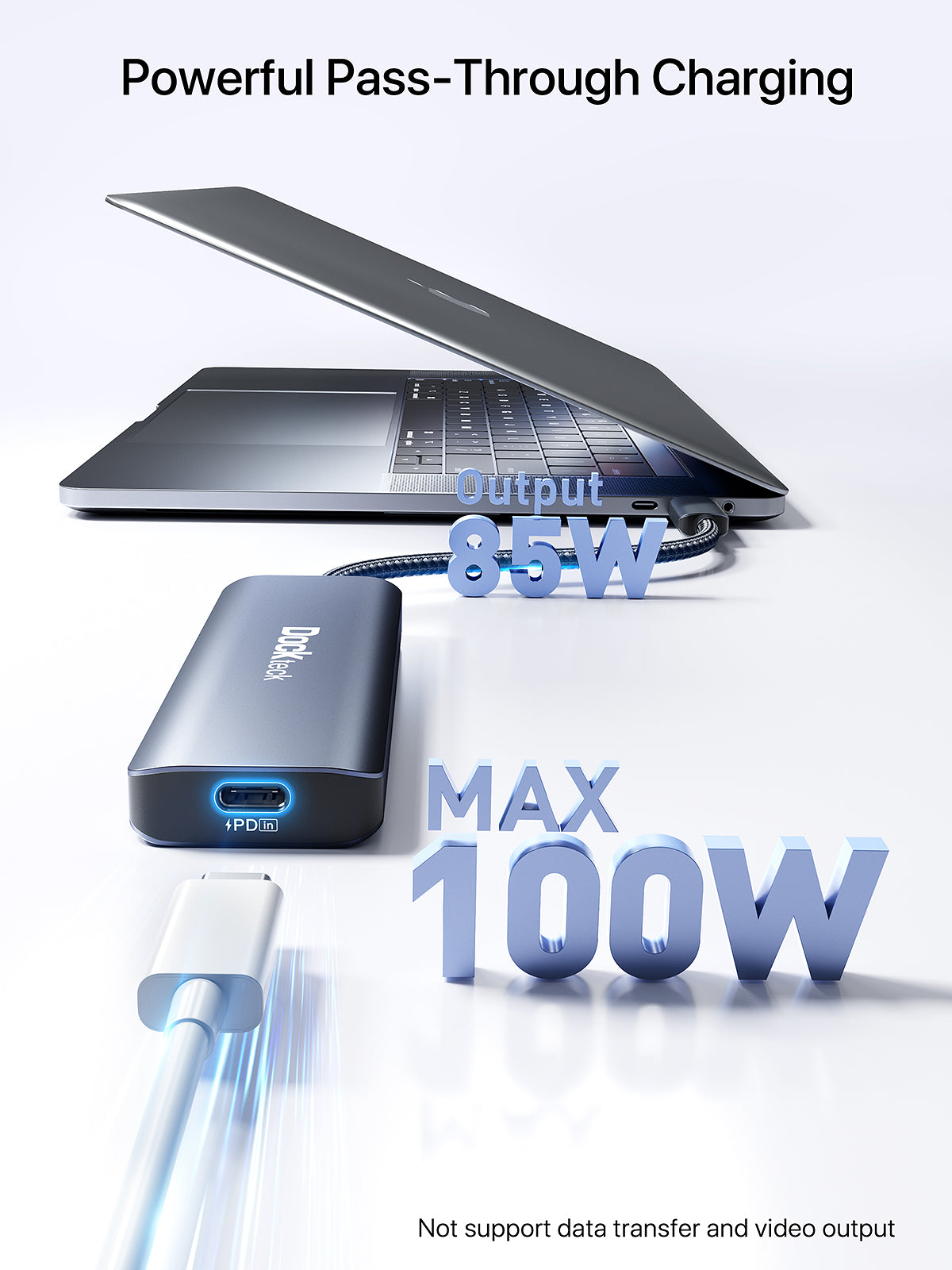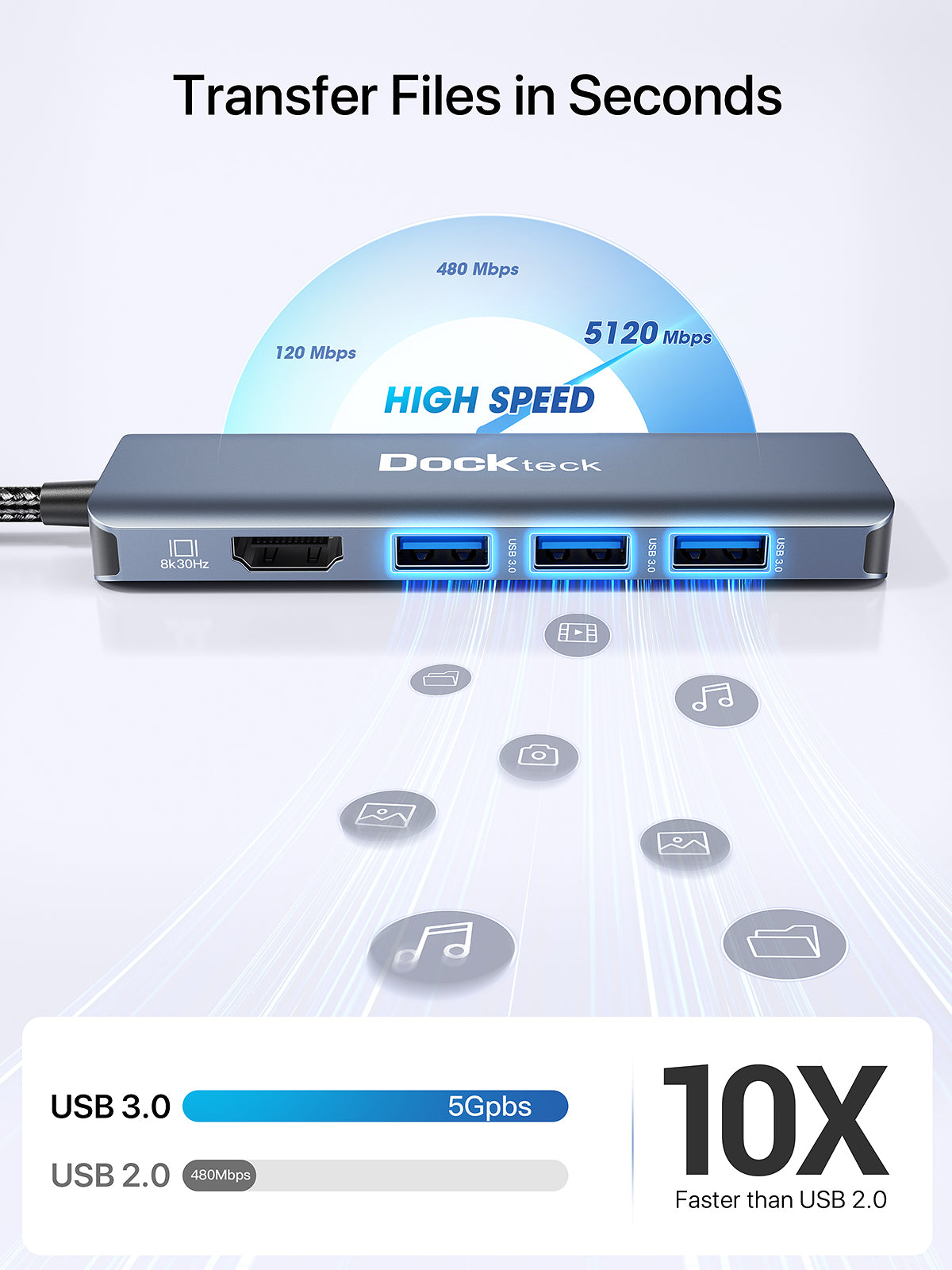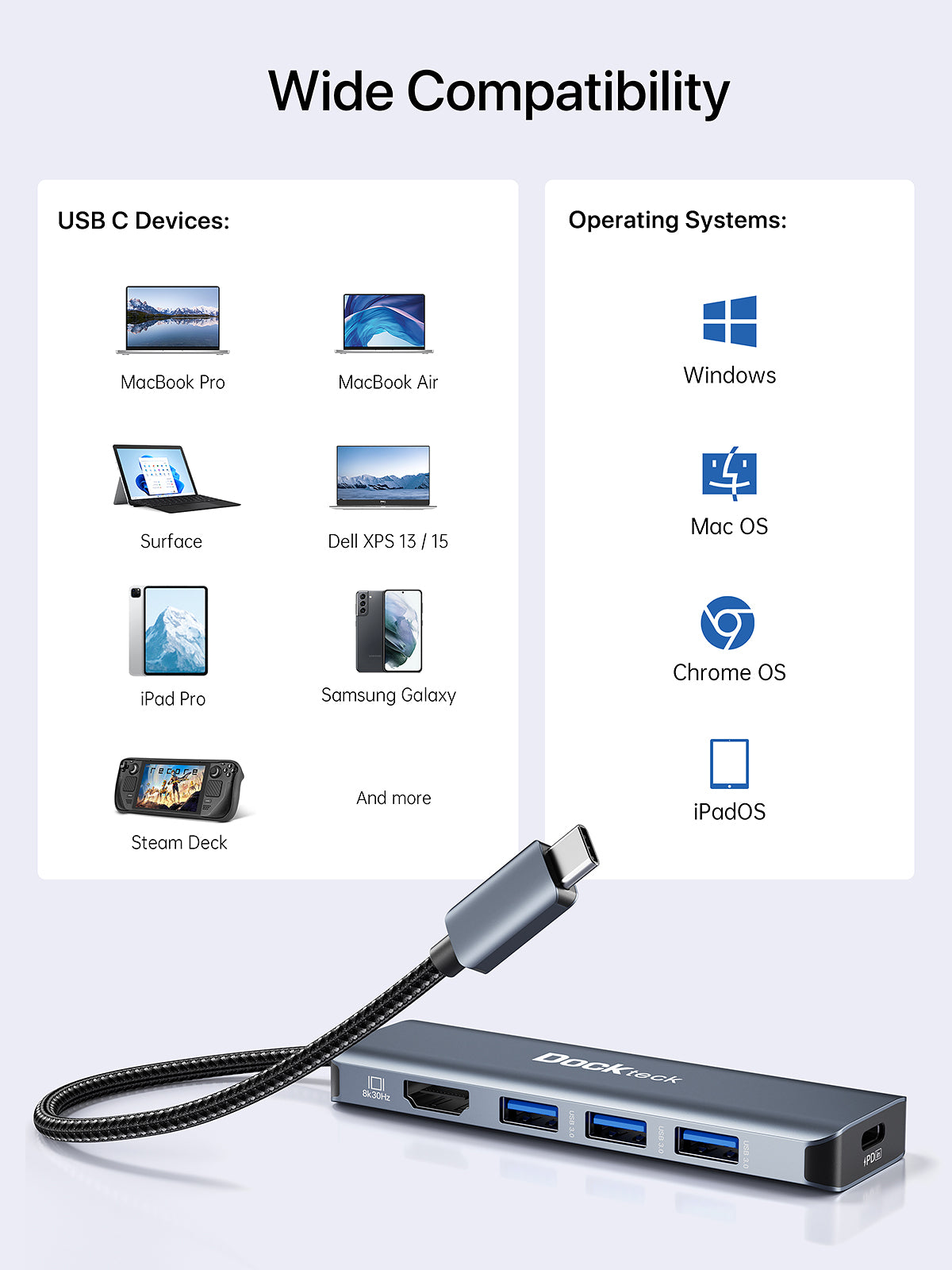 Regular price

Sale price

$52.99

Unit price

per
Advanced Tech 5-in-1 USB-C Hub 8K: Gathering 1 x 8K @ 30Hz HDMI, 1 x 100W PD and 3 x USB-A 5Gbps ports in Dockteck Compact USB-C dock. Upscale everything you watch for scenes rich in precise detail and texture, and with what you need for whatever's next to make it easier to be efficient.
8K HDMI 2.1 Superior Visuals: Mirror or extend all your favorite content with max 8K@30Hz through the HDMI port on Dockteck type C HUB 8K HDMI to external displays, enjoying the cinematic experience home. Support max 8K@30Hz, backward compatible with 4K @120Hz, 4K @60Hz. ► Note: To get 8K 30Hz, please ensure the type-C port of your device supports 8K as well as the HDMI cable and external display used.
Max 100W PD Charging: The 100W PD port offers a continuous power delivery for your type-C host device with up to 85W. Premium aluminum design ensures excellent heat dissipation and efficient operation, even with multi-functions used simultaneously. ► Note:The hub consumes 15W and the PD port is only for charging without data transfer and video output function.
3 x USB Ports for Seamless Connection: Dockteck Thunderbolt Hub offers 3 USB-A ports with up to 5Gbps data transfer speed and supports various USB peripherals such as flash drive, hard drive, keyboard, mouse, printer, etc. Greatly boost workflows and accelerate your creative genius.
Broad Compatibility Warm Tips: This USB-C Dongle works with almost all type-c devices with USB-C / Thunderbolt 3 / thunderbolt 4 port supporting charging, data transfer and DP Alt Mode. The Max resolution and refresh rate output of USB-C multiport adapter are depends on the specifications of the USB-C host devices, HDMI cable and the display used.
---
Product Description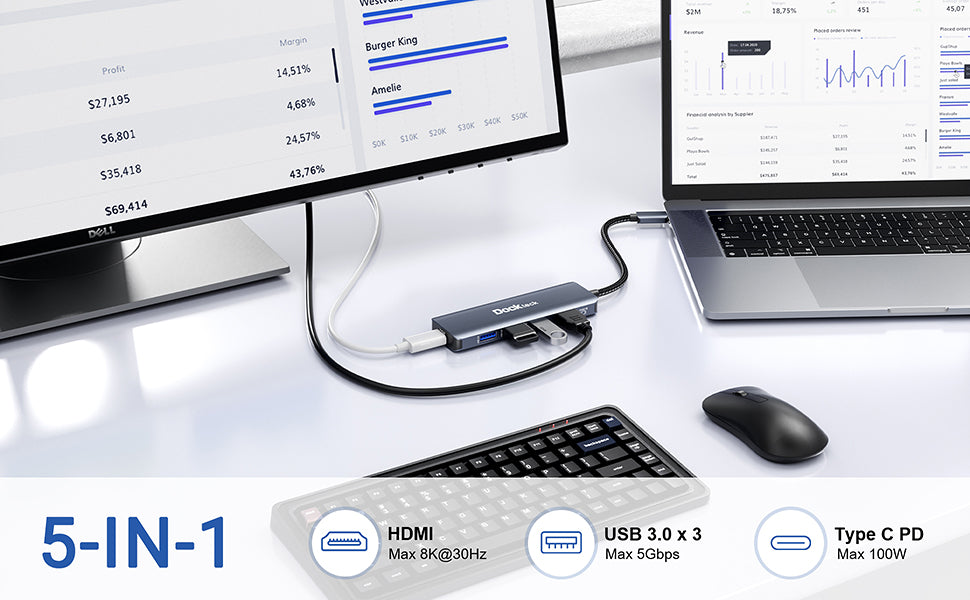 Quick User Guide (Please Check Before Purchasing):
1. Our Dockteck 5 in 1 Thunderbolt Dock ONLY works with host device with USB-C ports for DP alt-mode video output, data transfer and charging
2. About USB-C 100W PD charging:
• This 100W PD port is only for charging without data transfer and video output function
• The actual power delivery output depends on the charger and cable used
• Since the hub itself will consume 15W during charging, to ensure the normal performance of the device and hub, please use the charger that has a wattage higher than 45W and supports PD fast charging protocol
3. About the 8K HDMI Video Output Port (IMPORTANT):
• To achieve optimal UHD 4K 120Hz / 8K 30Hz, please use with 8K monitor or 8k TV and 8K HDMI cable(HDMI2.1 or above). At the same time, the laptop should support 8K video output such as ThinkBook 13x / Lenovo Yoga 14s
• 8K 30HZ/ 4K 120Hz/ 4K 60 Hz is only available for laptops with DisplayPort 1.4 and 8K. If your laptop is DisplayPort 1.2, it can only reach 4K 30 Hz
• 4K 120Hz and 8K support must be manually enabled on some 4K 120Hz and 8K televisions
• The Max resolution and refresh rate output of Dockteck thunderbolt 4 Hub depends on the USB-C host devices, HDMI cable and the display
NOTE:
• Due to specification limited, almost Macbook, Macbook Pro, and Mac Mini with Apple M1 or Intel chips doesn't support 8K at present, the resolution will depends on the maximum supported by MacBook.
Next-Level Experience with Effortlessly Powerful Performance
Expand a single USB-C port into a video, peripheral, and charging powerhouse with this Steam Deck Dock with 8K HDMI and Power Delivery. Instantly add 3 USB-A ports and an 8K and 4K 120Hz capable HDMI port to your device. Power and charge your device with max 85W pass-through charging
Technical Specifications :
1x USB C to HDMI: up to 8K @ 30Hz / 4K 120Hz / 4K 60Hz
1x USB-C PD Port: up to 100W
3x USB 3.0 A Ports: up to 5 Gbps
Explore the World with Advanced Dockteck Thunderbolt Dongle & Elevate Everything you Watch
All your Favorite Content, Upscaled to Max 8K 30Hz / 4K 120Hz / 4K 60Hz
Mirror or Extend the content through Stream Deck Hub
• Experience the dramatic beauty of 8K picture quality and explore the world like never before
• Providing a seamless expansive field that lets you see the smallest details bigger and better
If your USB-C host supports DP Alt Mode but the HDMI port doesn't work, we suggest you:
• Please make sure that you have chosen the correct input source. For example, your TV has three HDMI ports 1, 2, 3, when you connected HDMI 1, you should choose HDMI 1 as your TV's input source with your TV's remote control
• Update the BIOS and graphic card driver from your laptop's official website
• Use a shorter HDMI cable
• Set the laptop's resolution as 1080P or lower, then replug the USBC hub and restart your laptop to try again
8K HDMI 2.1 Output

Mirror and Extend mode supported. With 8K 30Hz/ 4K 120Hz / 4K 60Hz HDR video output, providing you smoother and unprecedented visual effects

Transfer Files in Seconds

Max 5Gbps data transfer speed and Multiple USB Peripheral supported such as mouse, keyboard, printer, ect.. Pefect for your need

100W Power Charging

Connect a USB-C PD charger ( Wattage over 45W is recommended) to the USB-C PD port to charge your laptop with max 85W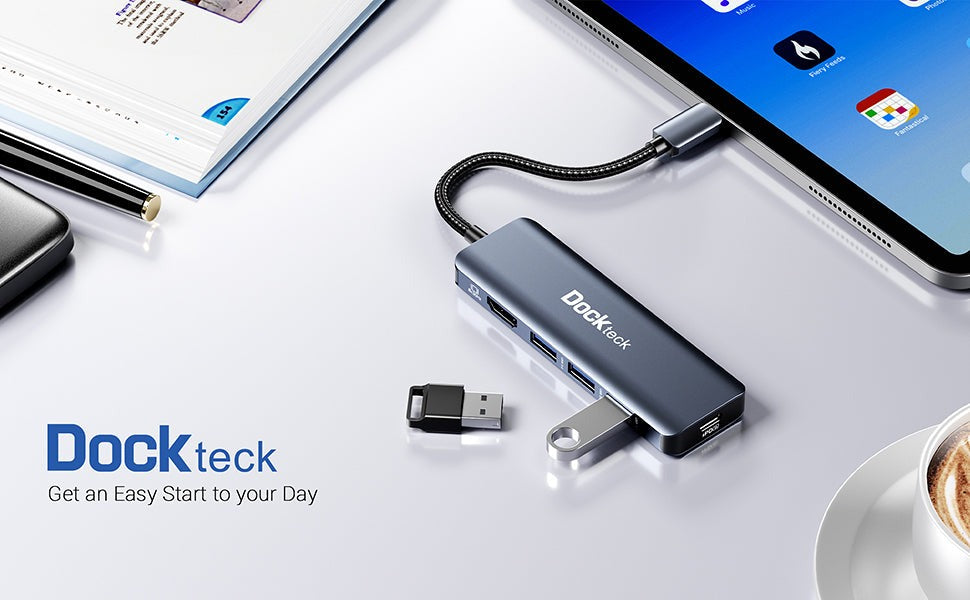 Attention (IMPORTANT):
Supports the simultaneous use of all ports. Due to the performance limitations of some laptops, please connect one hard drive / SSD at a time.

To ensure a stable connection, please avoid connecting devices with a total current of more than 900 mA

When the hub is fully loaded, it can reach a surface temperature of around 121 ° F. However, this is normal for USB C HDMI 2.1 Hub

The 3 × USB-A ports on this surface pro hub usb c are mainly intended for data transfer and do not support high charging power (in particular, you should not charge your tablet)
Incompatible Devices ( AN INCOMPLETE LIST ):
Nintendo Switch / Apple USB SuperDrive / Samsung Dex / iPad generation 9 / Surface pro 6/5/4/3
Compatible Devices ( AN INCOMPLETE LIST ):
MacBook Pro 2021 / 2020 / 2019 / 2018 / 2017 / 2016, MacBook Air 2020/ 2019 / 2018, iMac M1 2021

iPad Pro M1 2021 / 2020 / 2019 / 2018, iPad Air 2020 / 2018, iPad Mini 6

DELL XPS 13/15/12 / Latitude 7000 5000 / XPS12 9250 / Inspiron 7000

Steam deck / Samsung Galaxy Tab S7 / S6, Pixelbook 2017 / 2018 / 2019 / Stream deck

Surface pro 7 / 8 / X, Microsoft Surface Book 2, Surface loptop 3, Surface Go, HP Spectre13 X360, Microsoft Lumia 950/950 XL, Lenovo Thinkbook 15G2 ITL
Note: This list is incomplete, Not all the listed models support 8K output. For more models, please reach out to us via email.
Next-Level Experience with Effortlessly Powerful Performance
Expand a single USB-C port into a video, peripheral, and charging powerhouse with this Steam Deck Dock with 8K HDMI and Power Delivery. Instantly add 3 USB-A ports and an 8K and 4K 120Hz capable HDMI port to your device. Power and charge your device with max 85W pass-through charging
Technical Specifications :
1x USB C to HDMI: up to 8K @ 30Hz / 4K 120Hz / 4K 60Hz
1x USB-C PD Port: up to 100W
3x USB 3.0 A Ports: up to 5 Gbpsl
8K HDMI 2.1 Output
Mirror and Extend mode supported. With 8K 30Hz/ 4K 120Hz / 4K 60Hz HDR video output, providing you smoother and unprecedented visual effects
Transfer Files in Seconds
Max 5Gbps data transfer speed and Multiple USB Peripheral supported such as mouse, keyboard, printer, ect.. Pefect for your need
100W Power Charging
Connect a USB-C PD charger ( Wattage over 45W is recommended) to the USB-C PD port to charge your laptop with max 85W
Overview