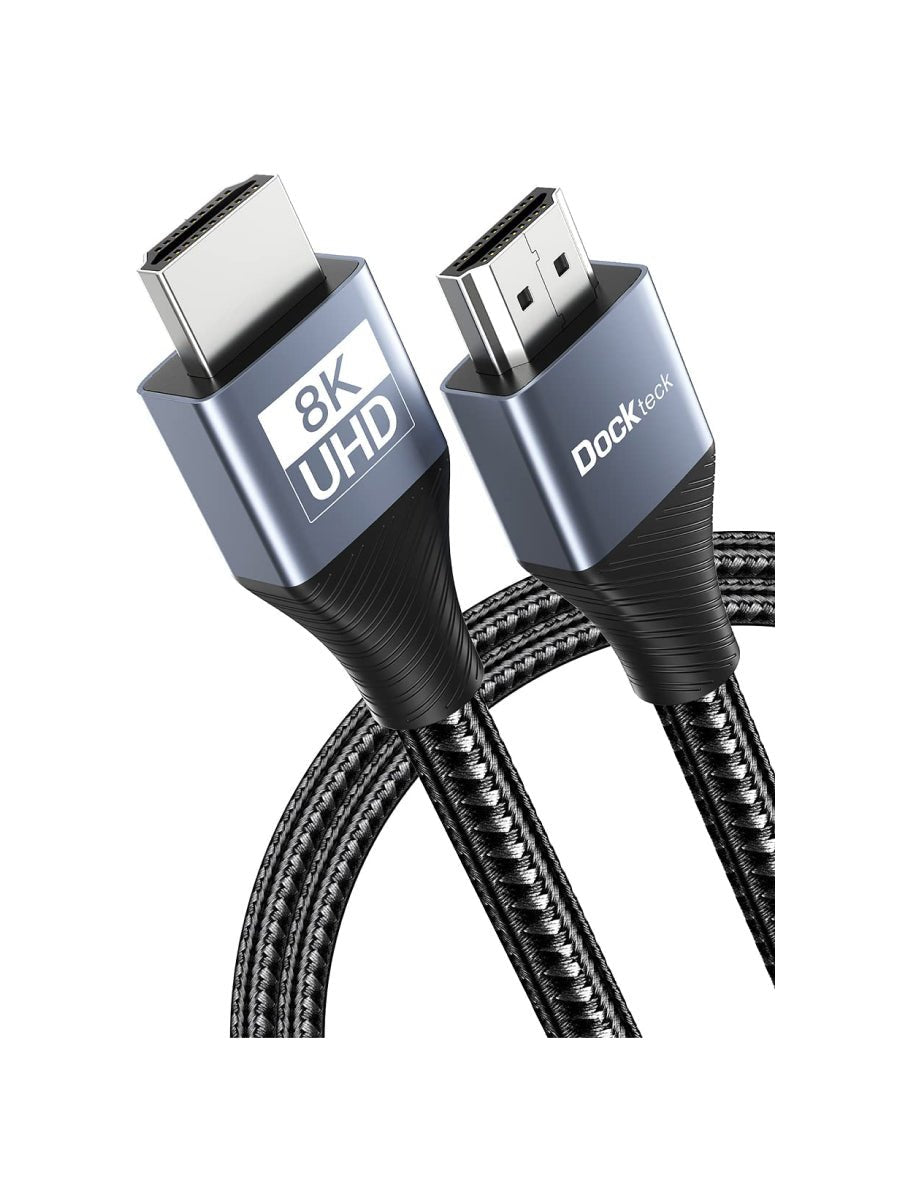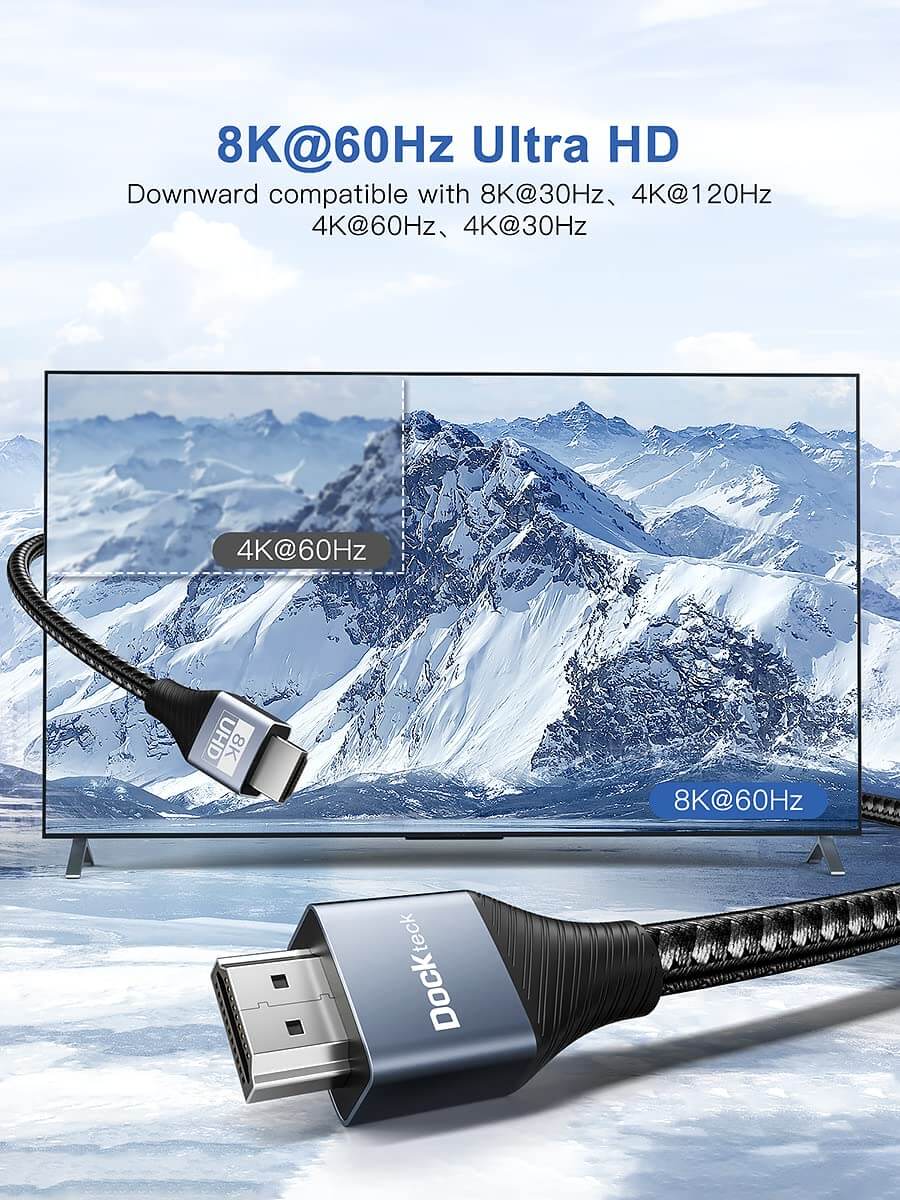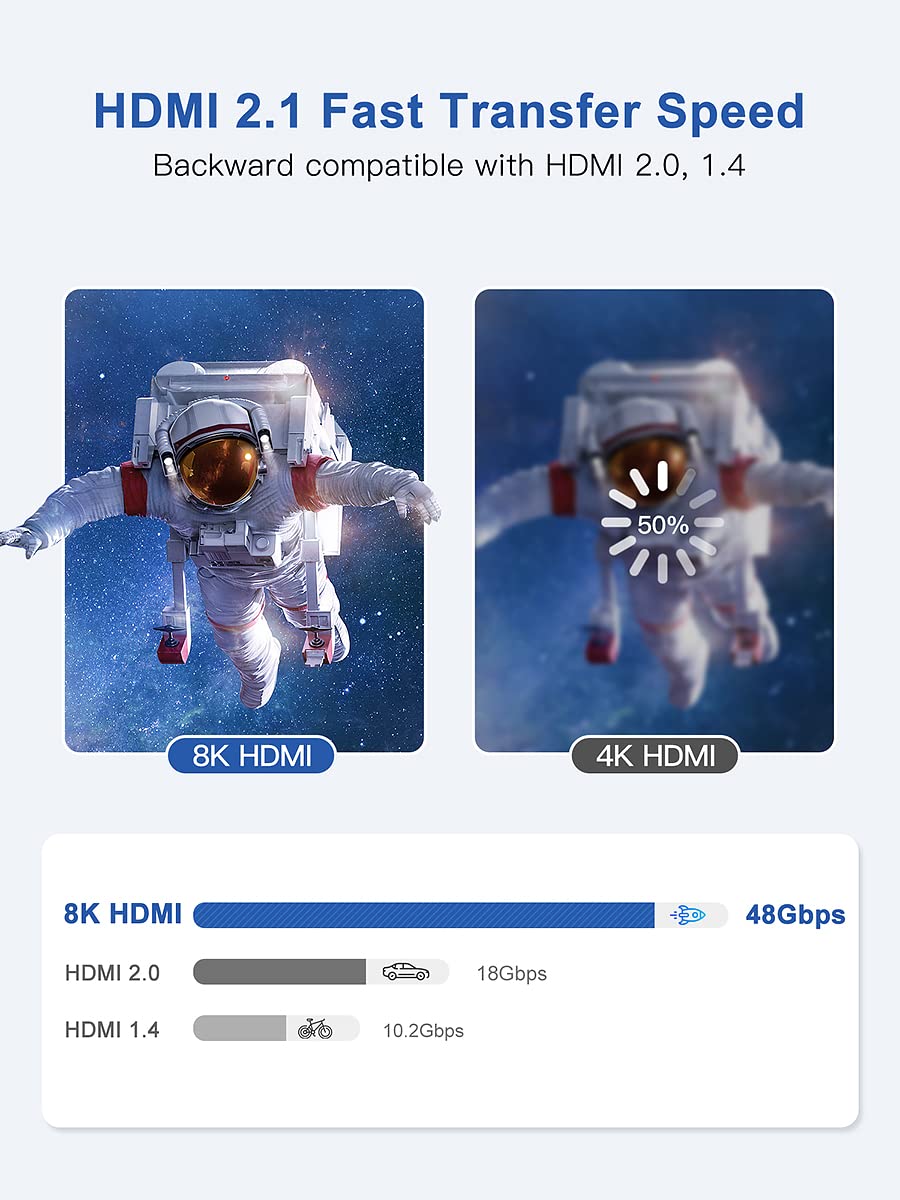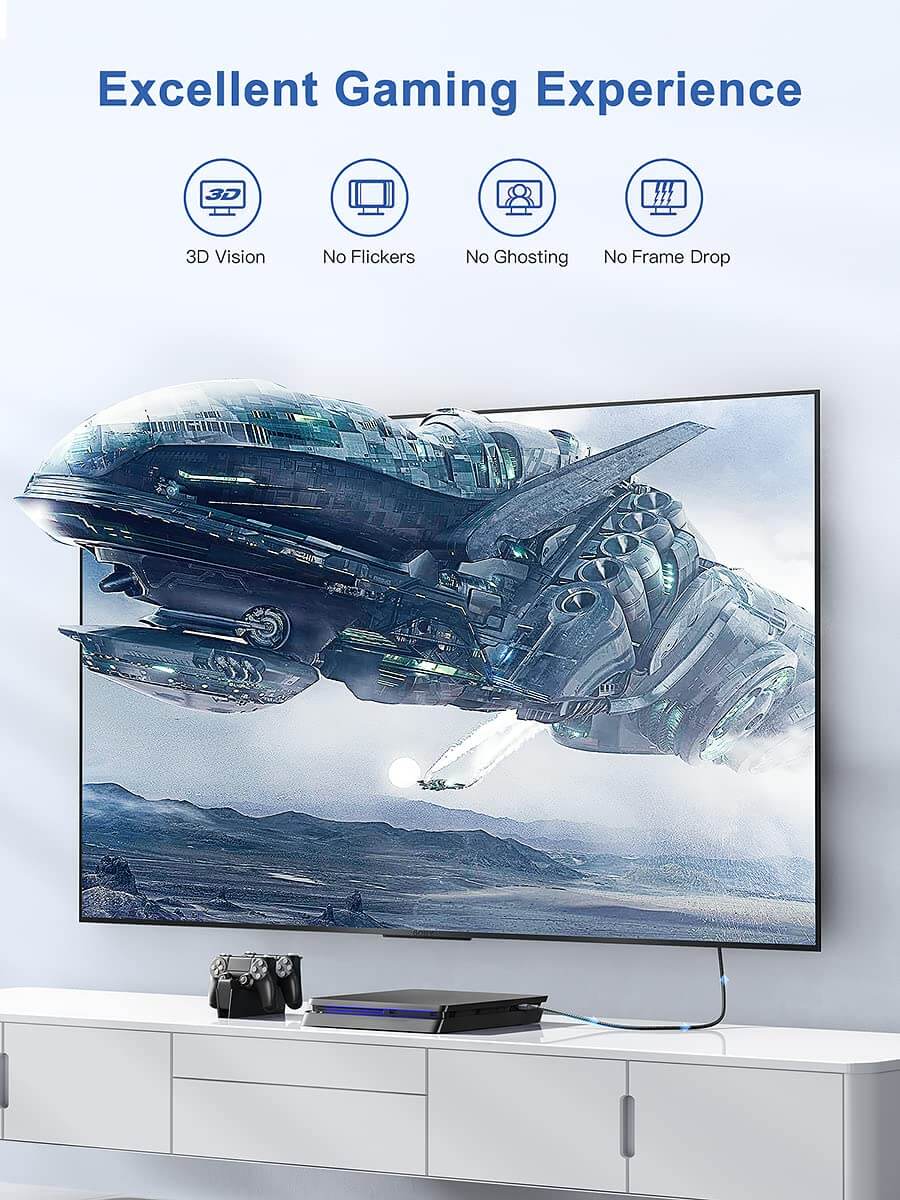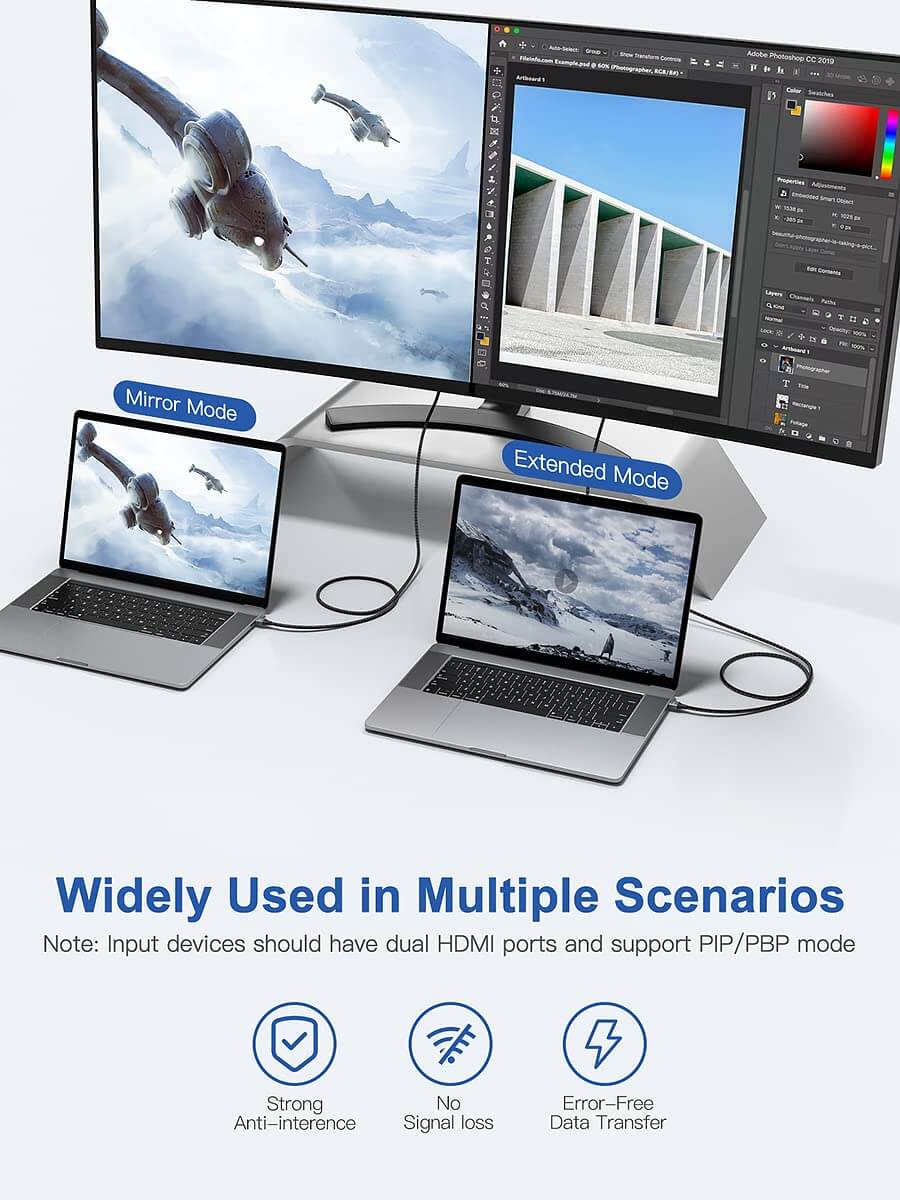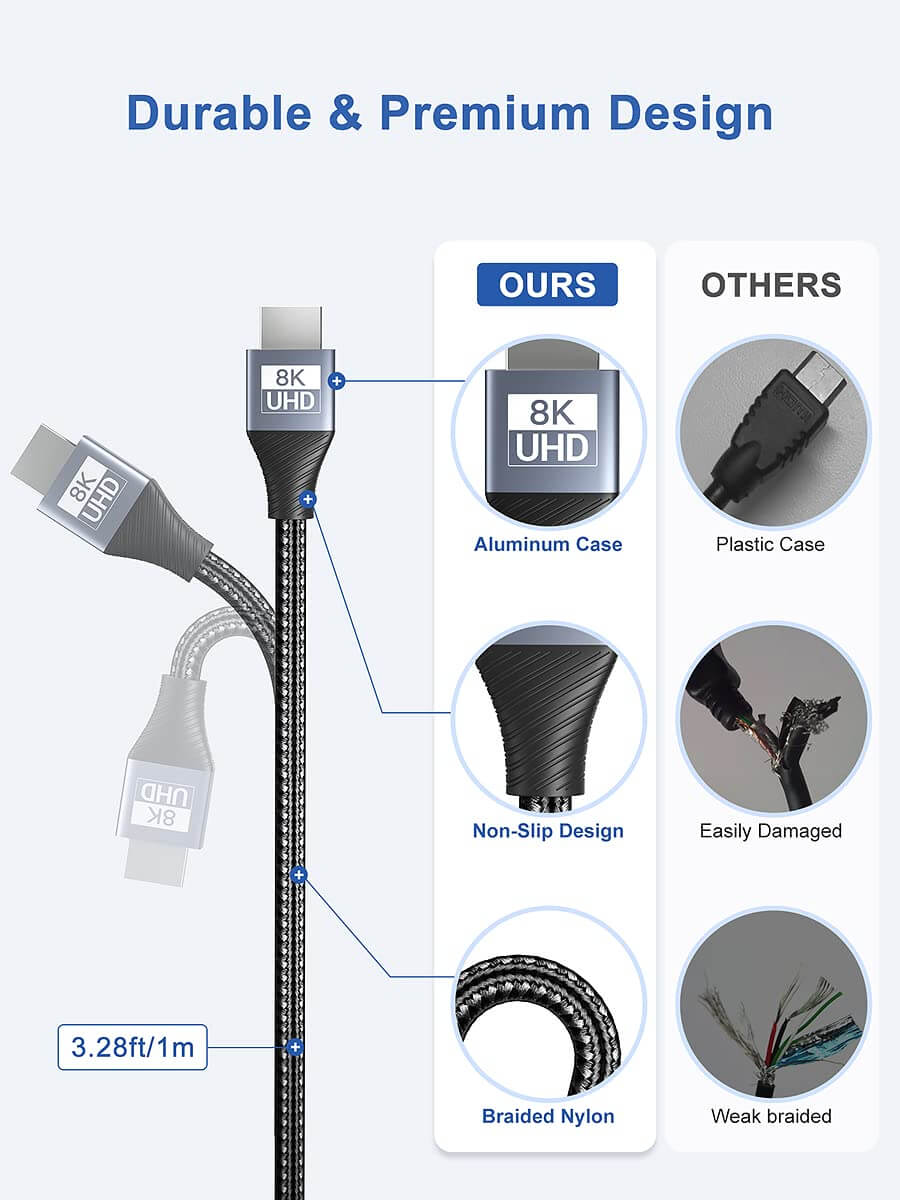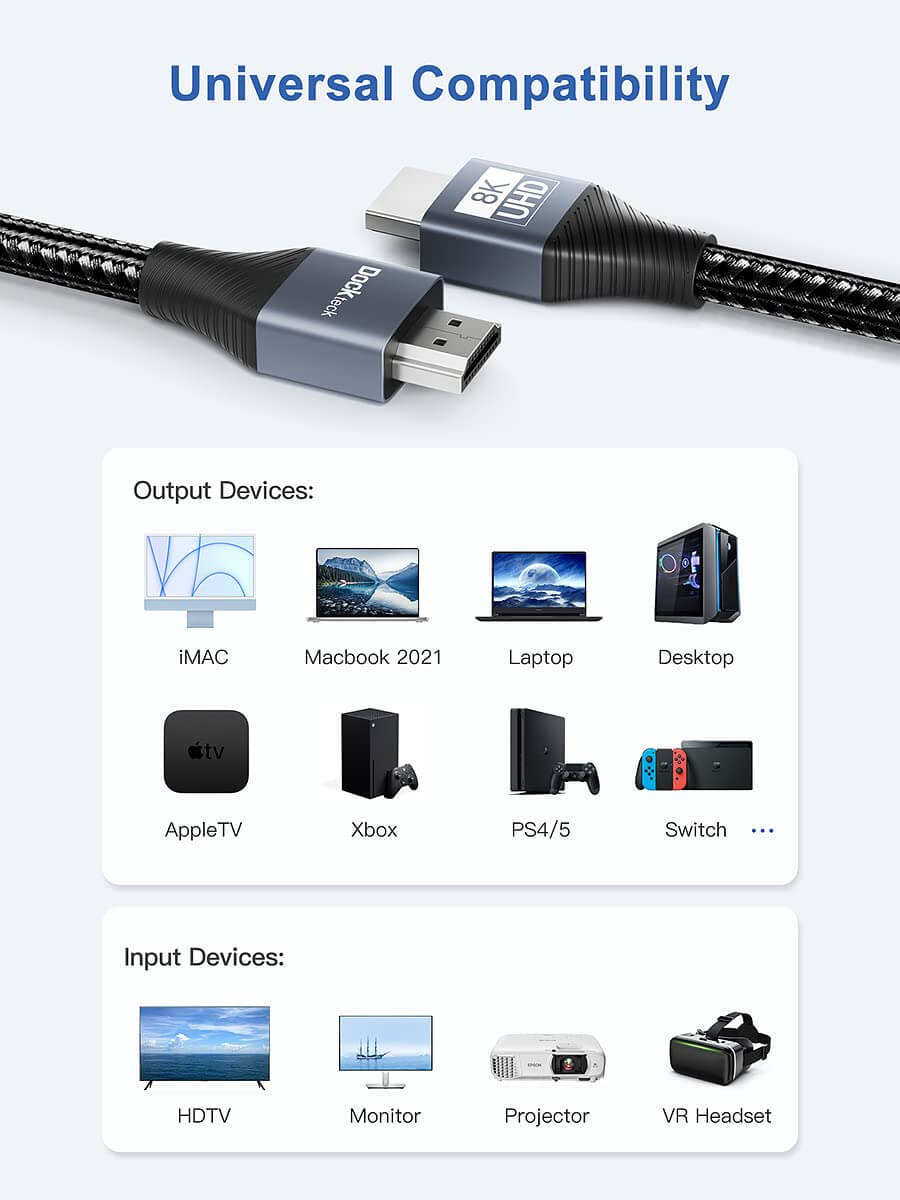 Regular price

$15.99

Sale price

$15.99

Unit price

per
【8K UHD HDMI 2.1 Cables】Compared with HDMI cable 2.0 and 1.4, ultra hd 8K HDMI Cable's transmission speed is 3-times faster than 4K hdmi cables. Adopts the most cutting-edge technology, compatible with 8K@60Hz 4K@120Hz 2K@240Hz, accurately handles each signal source and clear Display each pixel. With Dynamic HDR and 12-bit color processing technology unique to 8K HDMI, video is smoother and richer in color, with better depth, brightness, detail, contrast and a wider color gamut.
【48Gbps High-Speed & eARC HDR Support】 Compared with HDMI 2.0, Dockteck 8K HDMI 2.1 directly increases the transmission speed from 18Gbps to 48Gbps (6GB/s). No more worrying about loading videos for a long time, no more cards the situation of pause and frame drop. With Dolby Atmos and Dolby Vision, you can have an immersive experience. It is also backward compatible with HDMI 2.0b/2.0a/1.4/1.3/1.2/1.1 versions.
【Preferred by gaming enthusiasts】This HDMI cable can be switched to 8K ultra-high-definition picture quality or 4K@120Hz ultra-smooth picture. An essential hdmi cord which supports Variable Refresh Rate (VRR) and Quick Frame Transfer (QFT), maximizes the value of graphics card and CPU. and reduce lag,potentially eliminate input lag entirely, motion blur, and frame tearing.
【High Performance & Durable】The strength of the aluminum alloy shell and the anti-wear design of braided nylon at the tail make it more durable. The plug part is made of nickel-plated material to transmit signals more accurately. triple shield construction are anti-interference, anti-EMI and RFI interference, preventing signal attenuation or attenuation. Up to 10,000 times of plugging and unplugging tests, the interface has not fallen off and obvious wear, and the quality is guaranteed.
【Wide Compatibility】HDMI 2.1 8K cable is backward compatible with all devices supported by version 2.0, supports LG/QLED TV, Roku, Sony 8K TV, PS5, PS4, Xbox Series X, Tivo, Vizio, Laptop , PC, RTX 3080, projectors, and more, with higher bandwidth, higher resolution, and higher frame rates; Dynamic HDR and eARC capabilities. Perfect for gaming experience, home theater systems, video conferencing, and more. 24-month product replacement warranty and lifetime friendly technical support.
---
Product Description
DOCKTECK 8K HDMI2.1 cable
The key to open a new world of extreme visuals
DOCKTECK 8K HDMI2.1 cable
The key to open a new world of extreme visuals
● Aluminum shell-- heat dissipation
● Multi-layer structure-- durable
● 30 AWG tinned copper wire
● Tinned interface-- Wear-resistant
● Double-layer nylon braided
● Interface non-slip design
Version : 8K HDMI cable

Transmission speed : 48Gbit/s

Resolution : 8K @ 60Hz / 4K @ 120Hz / 2K @ 240Hz

Material : Double nylon braid / aluminum alloy shell
Perfect for Game Enthusiasts

Enjoy fluid high frame rate gameplay without choppy Animation and Screen Tearing

No screen flicker, black screen, snowflake nor frame drop, Achieve flawless,fast transmission.

● Auto Low Latency Mode (ALLM)

● Variable Refresh Rate (VRR)

● Quick Media Switching (QMS)

● Quick Frame Transport (QFT)

Ideal for Efficient Work

The upgraded 8K high-resolution pictures:Higher than 4K picture quality, with a higher refresh rate, making the pictures of games and conferences clearer and richer.

Plug and Unplug: Lightweight and compact cable design, plug and unplug, easy to use, making meetings easier.

Widely uses: It can be used in conference rooms, offices, home TVs, projectors, computers and other equipment containing HDMI interfaces.

3D HDR Support Dolby Vivison

3D stereo imaging technology, unique dynamic HDR and 12 Bit color processing technology, combined with Dolby Atmos& Dolby Vision, Enhanced audio return channel(eARC) provides high-resolution audio.

● Enhanced Audio Return Channel (eARC)

● HDR10, Dolby Vision/HDCP 2.2 & 2.3/ARC/CEC

● Dynamic HDR
QA Frequently Asked Questions:
Q1: Can this 8K hdmi cable support 4K@120hz?
A1: This 8K hdmi cable is compatible with all cables lower than this version. 8K is the mainstream trend of hdmi cables which has a higher definition picture than 4K.
Q2: Is 8k hdmi cable compatible with ps5?
A2: Of course, it works well with PS5, which is why I bought them. In fact, the adaptability of the data cable is very wide, as long as the device you use has an HDMI interface, it can be used normally.
Q3: Hi, does this cable have eARC capability?
A3: Of course, the 8k hdmi cable has eACR capability, Which will brings you an immersive visual and auditory experience.