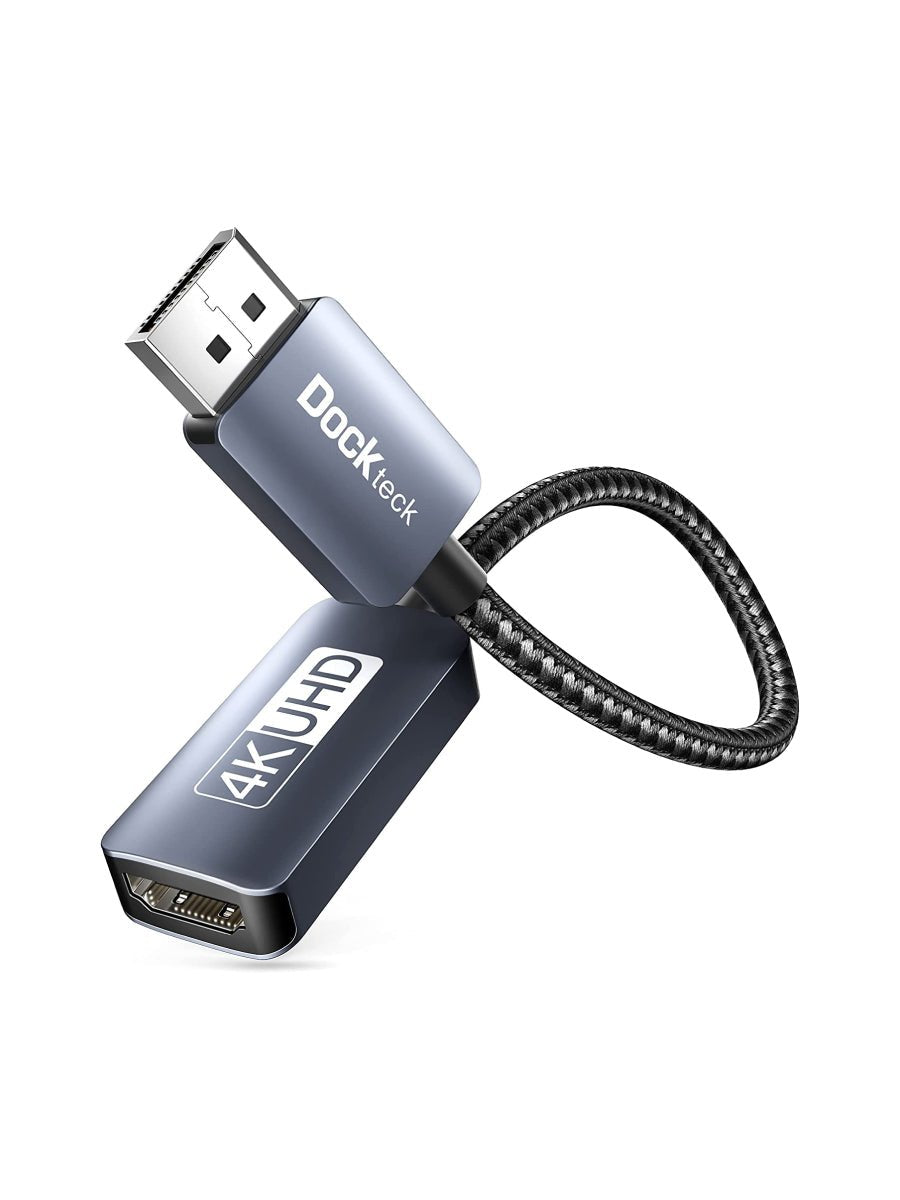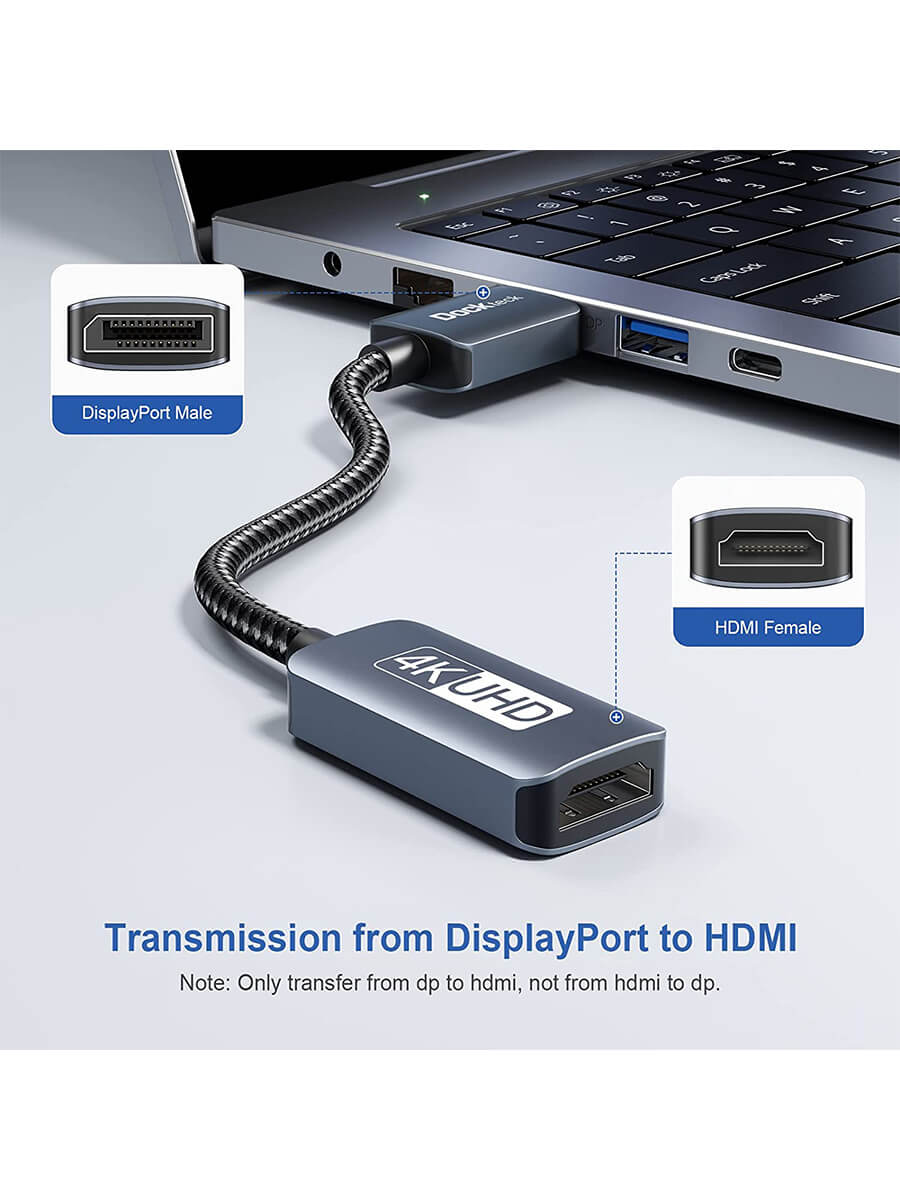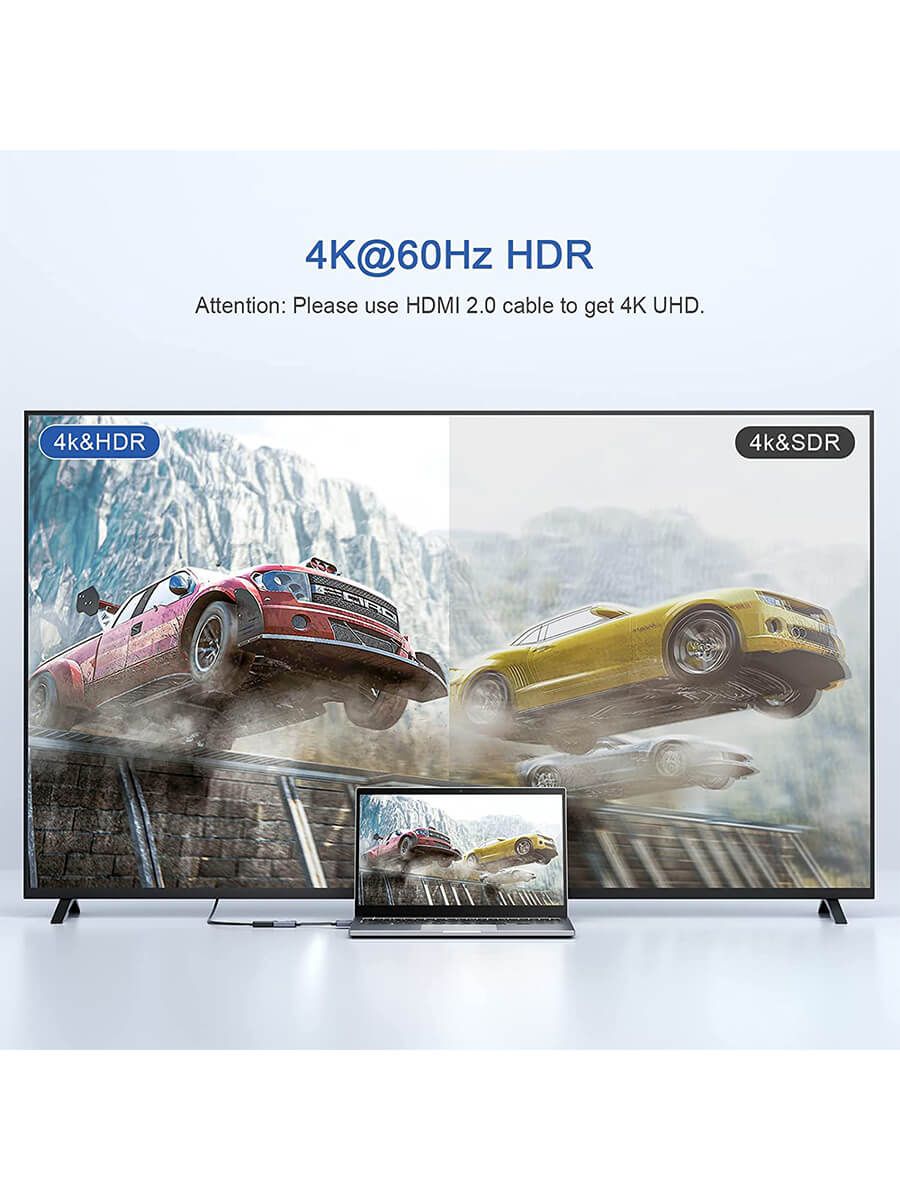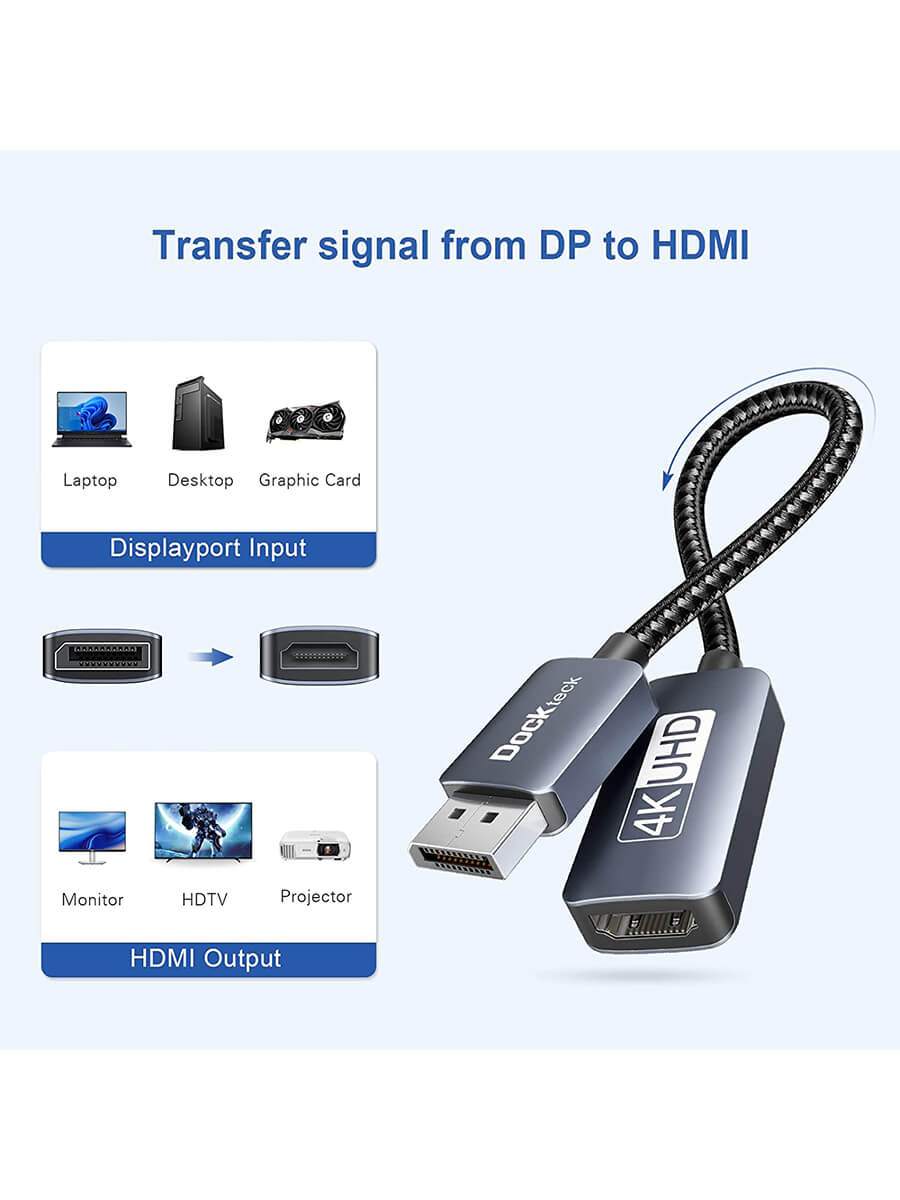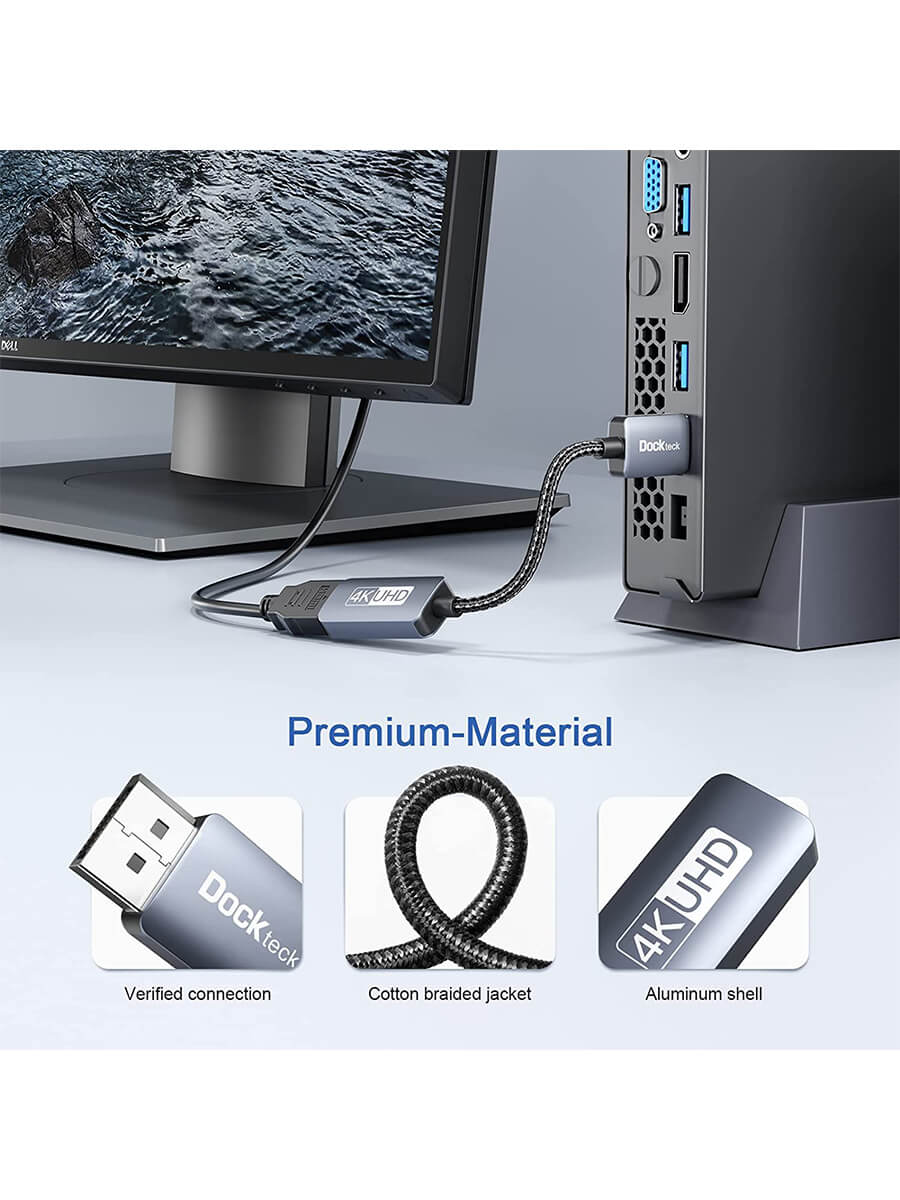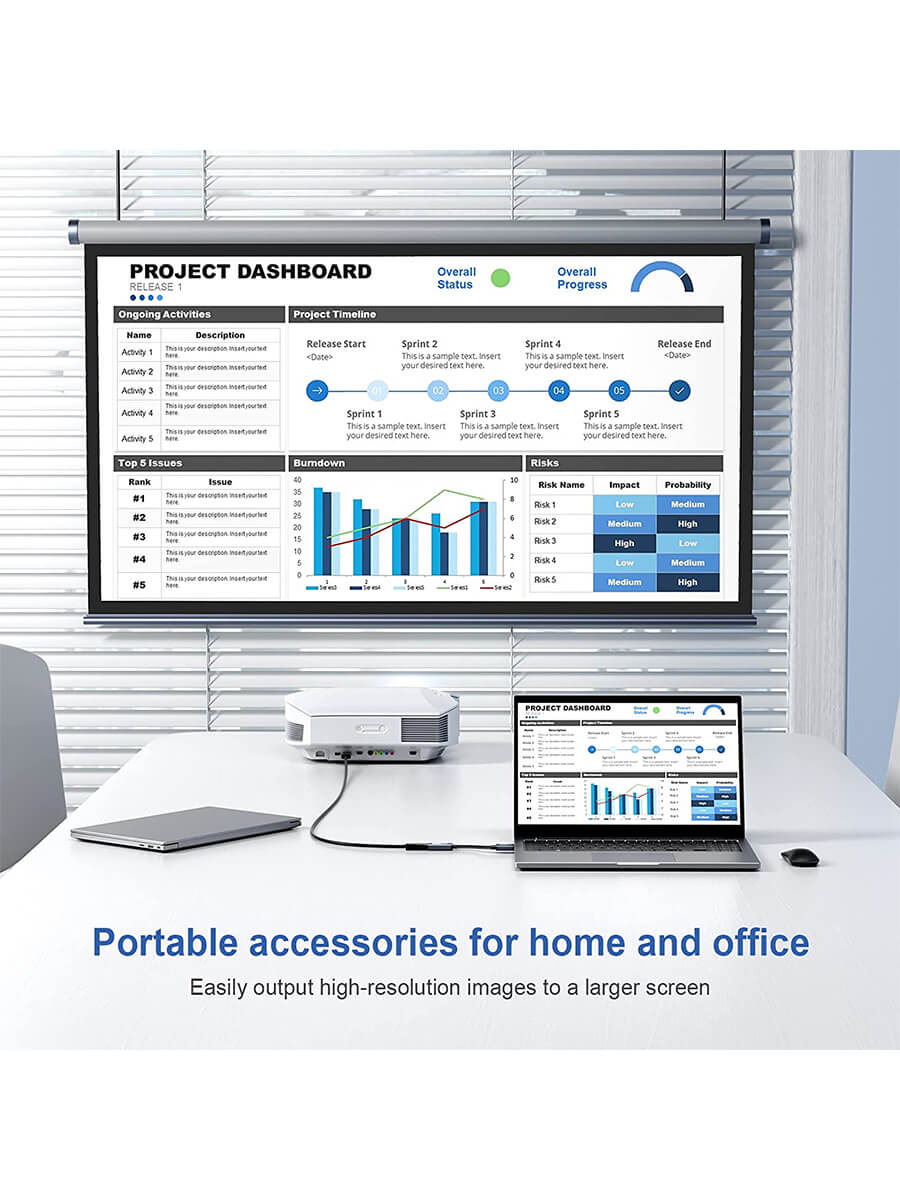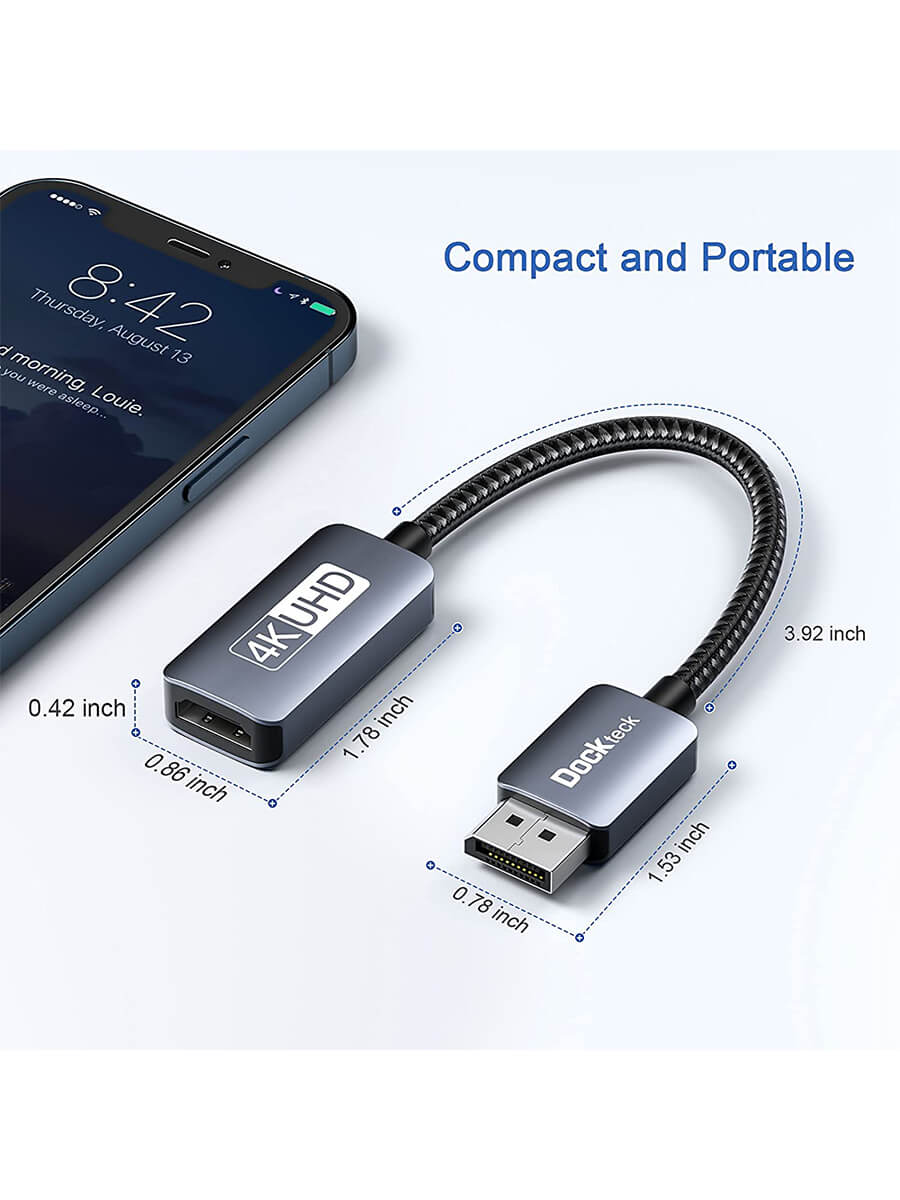 Regular price

$26.99

Sale price

$26.99

Unit price

per
【Active DP to HDMI】Compared to passive adapters, this active DP to HDMI adapter is compatible with AMD Eyefinity technology to support multi-screen SLS mode. Lossless and delay-free transmission of audio and video to HDMI monitors via devices with dp interfaces (DP, DP++, DisplayPort++). Create a high definition big screen vision for you! Note: HDMI cable is not included.
【DP HDMI Adapter Active HDR】DP 1.4 HDMI adapter supports up to 4K@60Hz, backward compatible with 2K@120Hz, 1080P@144Hz, etc. Dockteck DP Converter transmits audio and video from computer to HDMI monitor, making your work and life more convenient . Note: Please use HDMI 2.0 cable for 4K UHD
【Widely Compatible】 The DP to HDMI adapter is suitable for devices with Displayport. For example 1. Laptop: Lenovo ThinkPad, HP ProBook EliteBook, etc.; 2. Desktop: HP, Dell, Lenovo, Quadro 2000, etc.; 3. Graphics: AMD, NVIDIA, etc. Note: Only convert from DP source to HDMI.
【Premium Material】1. Silver-plated DisplayPort connector gives the adapter better conductivity, safety and high corrosion resistance; 2. The braided cotton jacket encasing the cable protects the cable from being easily broken. We've undergone more than 10,000 bend tests to prove the cable is extremely durable; 3. Strong aluminum shell, anti-interference.
【What You Get】1 x displayport to hdmi female adapter. 24-month warranty, lifetime technical support and 24x7 friendly customer service.
---
Product Description
Why active adapters?
Unlike passive adapters, our active DP to HDMI adapter contains a chip inside. This chip allows the adapter to convert DisplayPort signals into HDMI signals without loss. There is no doubt that Active DP-HDMI is a perfect match for visual feast.

Plug and Play: Without external drivers, dongle or additional power supply, it can be used immediately after plugging in.

Note: One-way transmission from dp to hdmi, so signal sources such as laptops, desktops, graphics cards that do not have DisplayPort are not compatible with our products.

About Dockteck

We move with the times, just as young people make fashion with inspiration. However, we are also stubborn like old people who forge their products one by one with a hammer.We care about users' feelings and experiences, so we don't allow ourselves to compromise.
General parameters
Support DP1.4 input
Supports HDMI output: max. 4K (4096×2160) 60Hz, HDR (High Dynamic Range)
Supports HDCP2.2 and HDCP1.4
Support RGB4:4:4 / YCbCr4:4:4 / YCbCr4:2:2 output pixel format
How to achieve HDR?

Both your input devices (DP) and your output devices (HDMI) must support HDR.

How to get 4K 60Hz?

Please use a HDMI 2.0 cable.

What output does this adapter support?

4K@60Hz, 2K@120Hz, 1080P@144Hz, etc.
The DP to HDMI adapter opens up more possibilities
Working station

Improve your productivity at home or in the office.

Home theater

Sound and video are synchronized. Set audio output to TV: System Preferences → Sound → Output.

Ultra-HD-Display

Perfect for meetings, business trips and groups
Incompatible devices (incomplete)
PS3, PS4
Broad Compatibility
This adapter can connect any output device with a full-size DisplayPort to an HDMI-capable monitor, TV and projector.
Compatible device (Not a full list)
| | |
| --- | --- |
| Laptops | HP ProBook; HP EliteBook 848, 840, 820; Samsung Chromebook 3;Lenovo ThinkPad T410, T420 |
| Desktop | HP EliteDesk 800 G2 TWR, Dell 7010, Dell Optiplex 790, Lenovo Erazer T420 |
| Graphic card | AMD (RX 470/480), NVIDIA (GT 660, GTX-Serie), Quadro 2000 |
| Output device | VR Headset(Oculus Rift, HTC Vive) ; Monitor, TV or projector with HDMI port |
Frequently Asked Questions
Q: Will this adapter work with my PS4 or PS5?

A: No, it won't work. This adapter transfers data from DP to HDMI, which means you can only connect a signal output device with DisplayPort to a monitor with HDMI. PS4 and PS5 only have one HDMI port, so they are not compatible with this adapter.

Q: Will this work with my Oculus Rift?

A: Most Oculus Rifts have an HDMI port, and if your computer or other output device has a DP port, it will work. (but note that an HDMI cable is also required)

Q: Why is my device only outputting 30 Hz?

A: You need an HDMI 2.0 cable to get 4k 60hz.