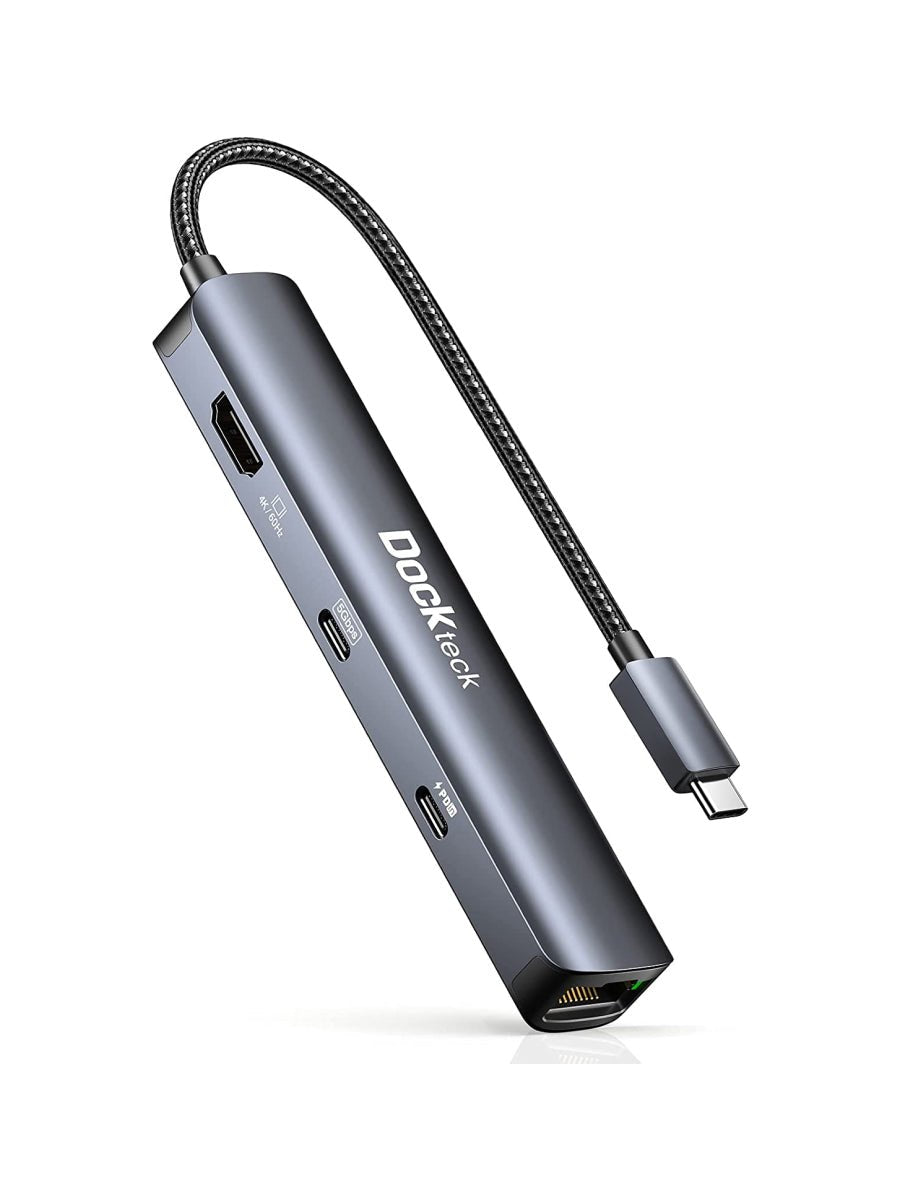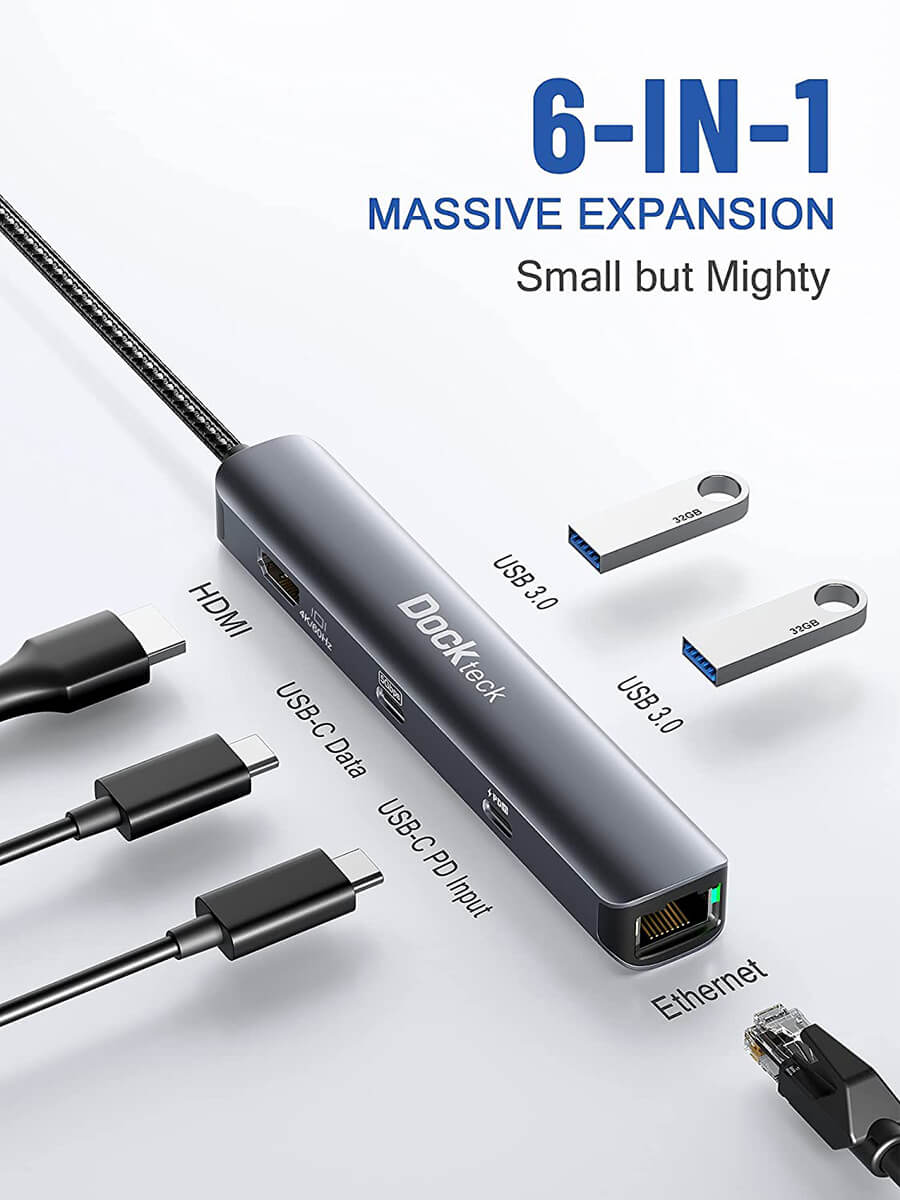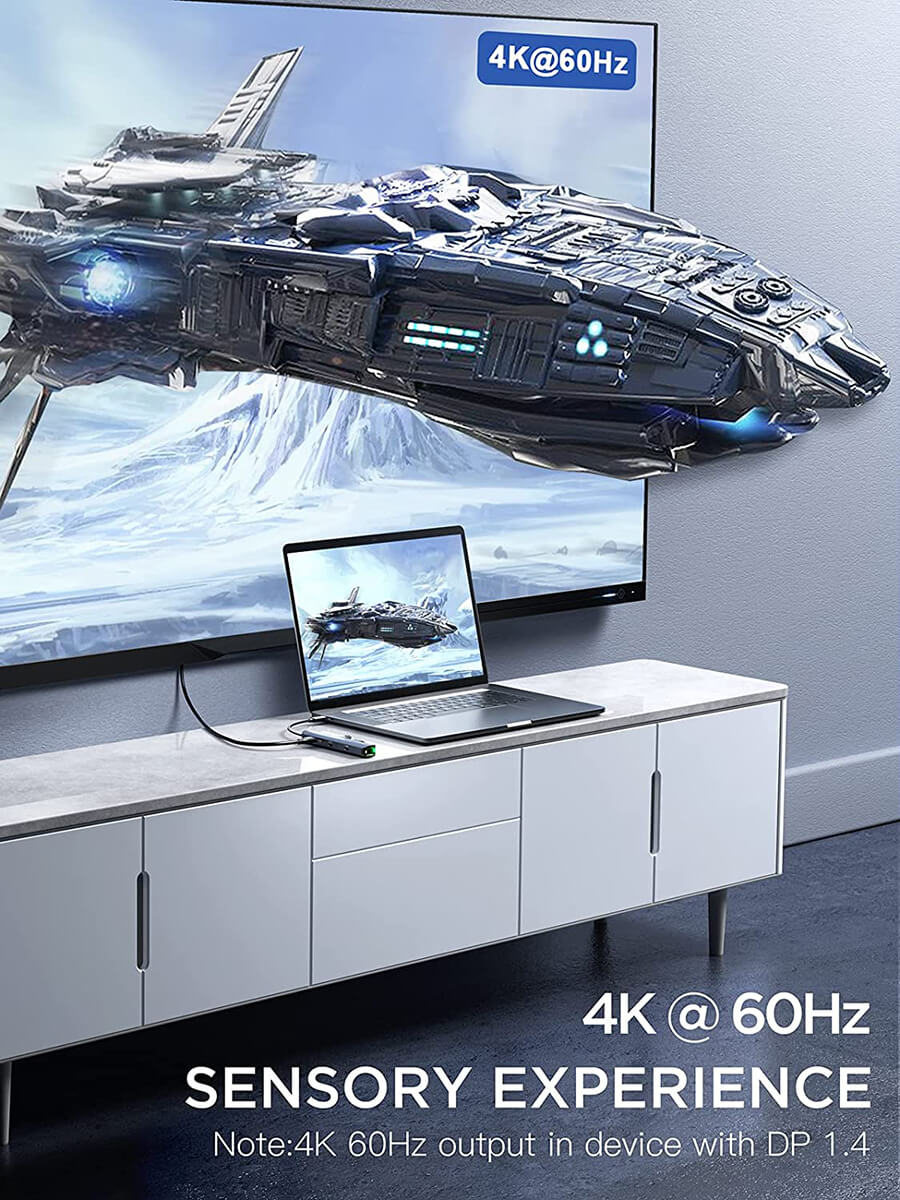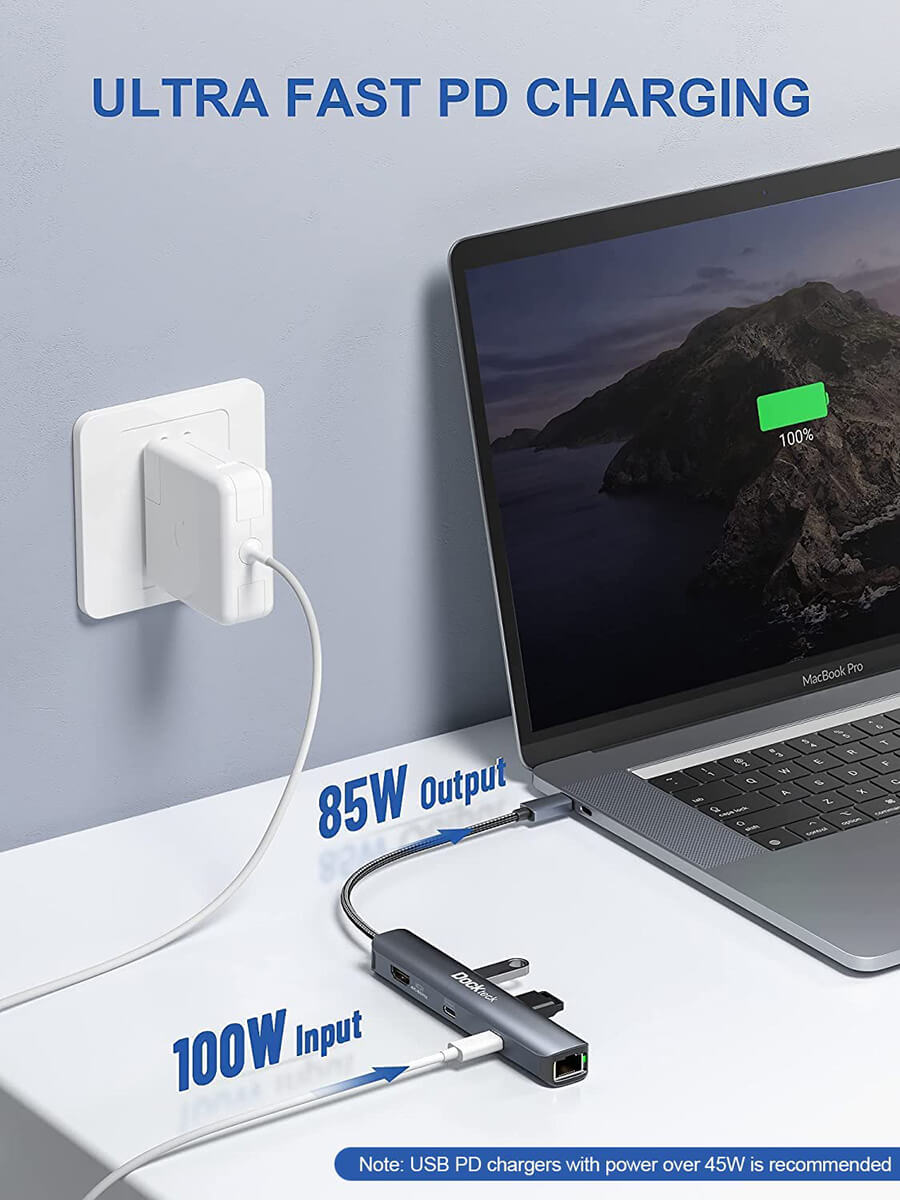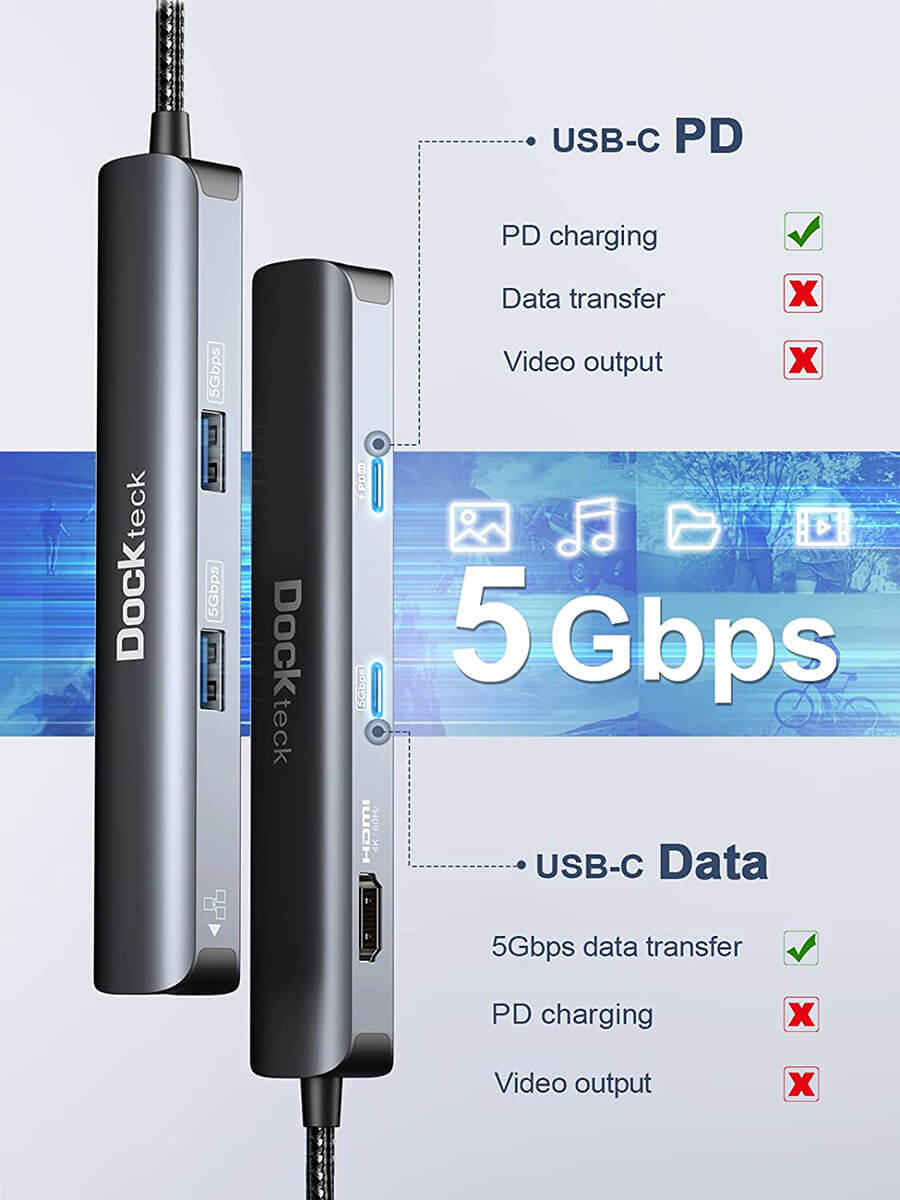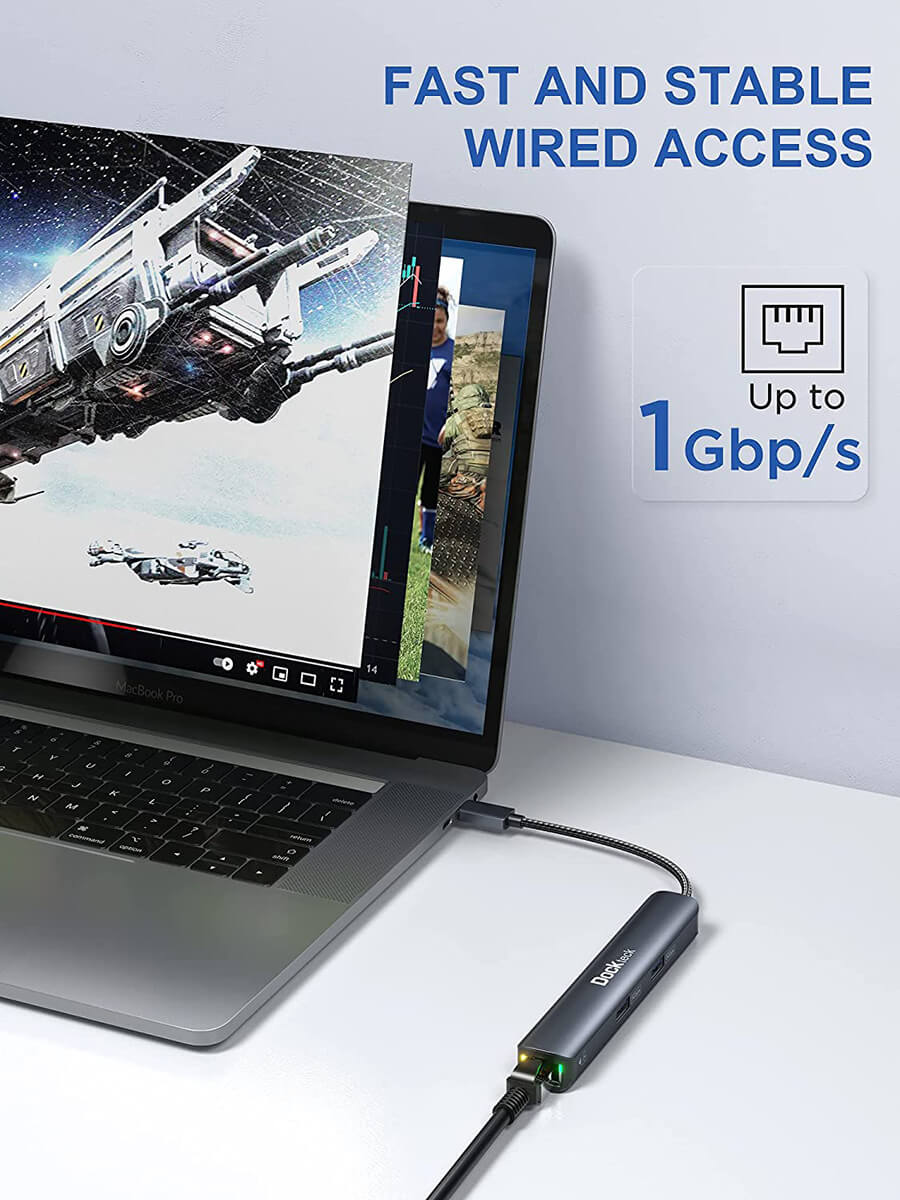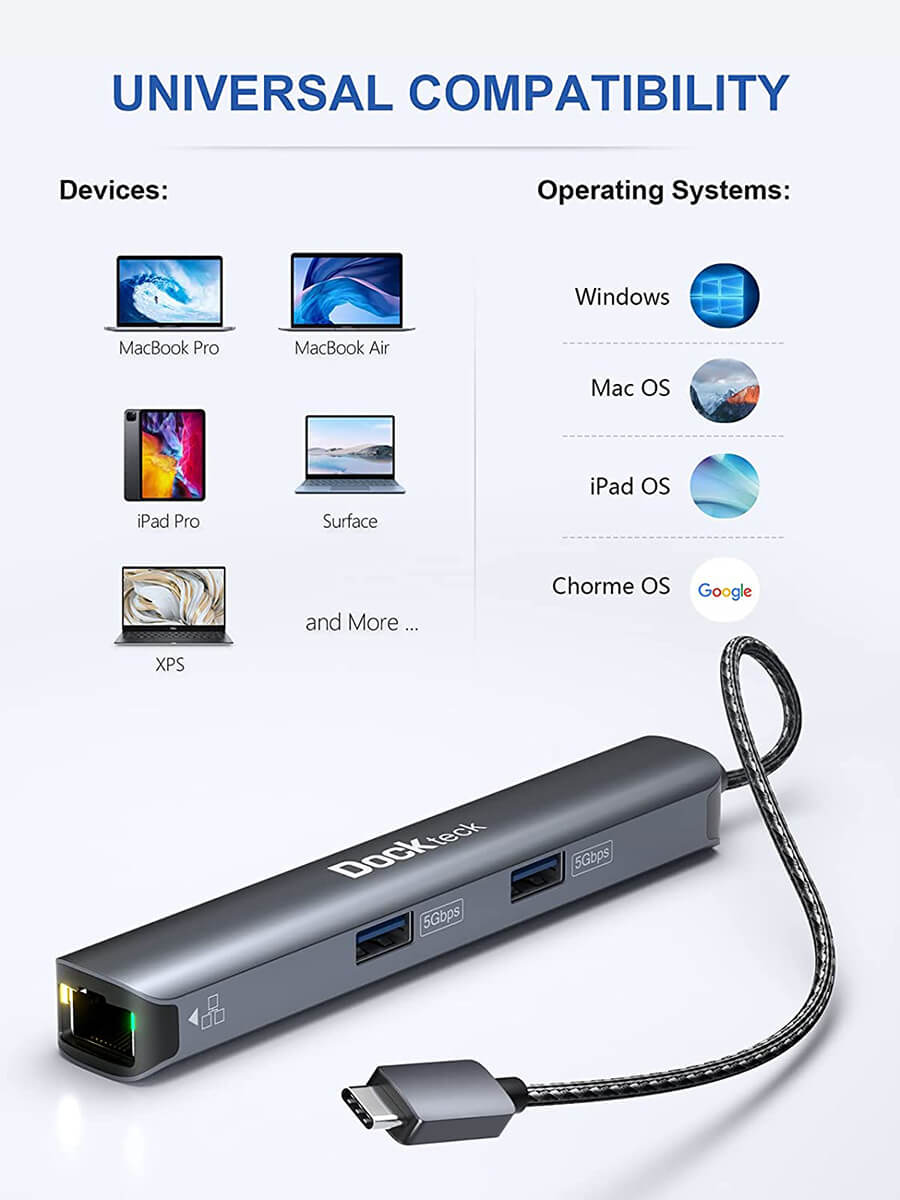 Regular price

$49.99

Sale price

$49.99

Unit price

per
Enjoy efficient and clutter-free connectivity on the go with the USB C Hub Multiport adapter. This powerful expansion adapter features a minimalistic design and maximum portability, perfect for those seeking high performance and aesthetics. With plug-and-play operation and premium aluminum construction, the USB C multiport adapter is built to efficiently handle simultaneous multi-function use and ensure secure data transmission.
 

1x USB-C to HDMI: up to 4K @ 60Hz.

 

1x USB-C PD Port: up to 100W.

 

1x USB-C to Ethernet: up to 1 Gbps.

 

1x USB-C Data Port: up to 5 Gbps.

 

2x USB 3.0 A Ports: up to 5 Gbps.
Note: Products with electrical plugs are designed for use in the US. Outlets and voltage differ internationally and this product may require an adapter or converter for use in your destination. Please check compatibility before purchasing.
Simultaneous Multifunction Use
Maximum input of 100W gives your laptop up to 85W continuous charge while using.
NOTE: 15W is uesd for this iPad pro adapter's operation
USB Convenience
Saving your time with speedy data transfer up to 5Gbps and multiple peripheral devices supported provides you a sleek workplace.
NOTE: The USB-A and USB-C data ports do not support media display or charging.
Gigabit Ethernet Network
Get rid of poor network connection and enjoy the max 1Gbps faster and stable wired access with Dockteck surface pro hub.
LED indicators
· Orange light: network connection
· Green light: transmitting data
Overview
Specs
USB-C PD Port
100W-PD x 1
HDMI Port
4K 60Hz HDMI x 1
Ethernet Port
Ethernet x 1
USB-C Data port
USB-C Data x 1
USB-A Data port
USB 3.0 x 1
SD/TF Slot
X
Material
Aluminum
Compatible Devices
MacBook Pro 2021 / 2020 / 2019 / 2018 / 2017 / 2016, MacBook Air 2020/ 2019 / 2018, iMac M1 2021
iPad Pro M1 2021 / 2020 / 2019 / 2018, iPad Air 2020 / 2018, iPad Mini 6
Pixelbook 2017 / 2018 / 2019
Samsung Galaxy Tab S7 / S6, Dell XPS 13 Zoll / 15 Zoll
Surface pro 7, Surface pro 8, Surface pro X, Surface loptop 3, HP Spectre13 X360, Lenovo Thinkbook 15G2 IT
FAQ
Does the 5gbps usb-c data port support audio/video output? (at least 1080p @ 60hz)
Yes. It will support up to 4k video. Here are the specs from the Amazon site:
4K @ 60Hz Stunning Pleasure: Mirror or extend your screens and directly stream a crystal-clear image and authentic video to the connected HDTV, monitor or projector at resolution up to 4K @ 60Hz, providing you a vivid visual experience. Perfect for office meetings, gaming and movies. Note: To achieve 4K @ 60Hz, source device must support DisplayPort 1.4
Can data be put through the usb-c port? Thanks.
There are two USB-C ports on this 6 in 1 USB C Hub.
Please kindly note that
1) Two usb c ports one is for charging only, and the other is for data only (Close to the HDMI port).
2) The USB-C data port does not support media display or charging.
What's the max speed connection to computer? 10gbps or 5gbps? i am concerned with bandwidth bottleneck issue after connecting a 4k monitor @60hz.
This 6 in 1 usb c port hub is designed with 2x USB A ports and 1x USB-C data port and these ports are capable of max 5Gbps data transfer.
With the regard of the 4K 60Hz output, please kindly note that:
1)4K @ 60 Hz is only available for laptops with activated DisplayPort 1.4 and 8K. If your laptop is DisplayPort 1.2 it can only reach 4K @ 30 Hz
2)To get 4K 60Hz, both the connected device and display are the same resolution as well as the HDMI cable.
Hope it's helpful. Please let us know if there is anything we can assist you with.
Are usb a ports powered?
Please note that the USB 3.0 ports on this USB C hub are not designed for charging.
Any other questions about our 6 in 1 USB C hub, please contact us via Amazon Message Center.